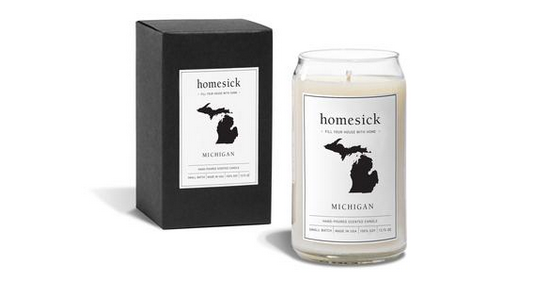 Have a friend or relative that left Michigan but always talks about how much they miss it? You may think in your head, "well, gee...why don't you just move back then?"
So instead of trying to figure out why this person complains so much, send them this candle that smells like Michigan that will apparently remind them of their home state.
Homesick Candles
specializes on in-capturing the scent of each state so that when you burn it, it smells just like it. According to the candle company, Michigan smells like Indian summers, cherries, and chocolate.
Sure, Indian summers and cherries make sense, but are we really known for our chocolate that much? Maybe if it was labeled as fudge (ayo, Mackinaw Island) instead of just chocolate than we could see the connection.
Anyway, we really want to burn this baby and see if we are truly reminded of Michigan. If someone wants to send one to the office, they are on special right now for $29.95! You know where to find us.