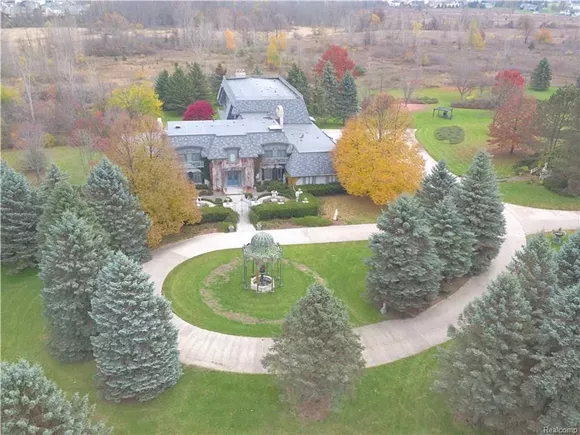 Safari-themed rooms, indoor fountains, a spiral staircase, marble statues, and ... upholstered walls? A 14,707 square foot home is for sale in Grand Blanc and it has all these ... stunning ... features and more.
The eight bedroom, nine-and-a-half bathroom mansion also features a cavernous master bedroom with a forest green jacuzzi tub, padded banisters, and carpeted bathrooms. The basement features lighted mirrors, a full bar, a fireplace, and a home theater. Honestly, it's hard to look away from the photos and — fuck! — that statue of a baby angel riding a chariot is unsettling.
It appears that a small portion of the house is inhabited by sane people — it has a normal-looking kitchen and living area — but the rest of the home looks like it was decorated by the bad guy from
Ace Venture Pet Detective
.
The place is outfitted with built-ins, amazing woodwork, arched doorways, and other beautiful details that would make any enthusiastic real estate agent shout, "it has great bones!" and a
listing on estately.com
generously calls the home a "Great Gatsby-inspired" mansion. The property also comes with an in-ground pool (although it's looking more like a murky pond at the moment) and 50 acres of land.
You can own the home, located at 6353 Belsay Road in Grand Blanc for a mere $2,975,000. To see 33 images of this bizarre home,
click here
.