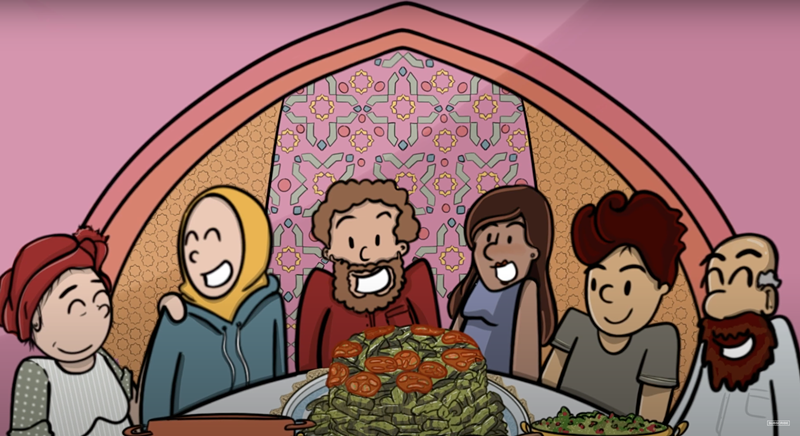 Huda Fahmy wasn't allowed to watch MTV when she was growing up in Dearborn. Now the Egyptian-American illustrator and writer's work is being shown across the network.
An animated short by Fahmy premiered across MTV Entertainment Group platforms at the start of April for Arab American Heritage Month. It's a humorous take on her family's tradition of preparing copious amounts of warak enab, aka stuffed grape leaves.
In the piece, a woman in a hijab is going to town at the gym, throwing a 60-lb. kettlebell around like it's an Olympic sport. When she gets home for dinner, she impresses her family by flipping a massive pot of grape leaves onto a serving plate, which Fahmy says is "a whole event."
"If you're gonna make warak enab you've gotta make a whole big pot, there's no point in spending four hours rolling those leaves if you're only going to make a tiny amount," she tells Metro Times. "When the time comes to flip the pot, it's always either two people doing it or somebody who has been practicing and they do it really elaborately and you're just like, woah. It's very uniquely Arab and I wanted to use this platform to highlight that."
Fahmy — who was born in Detroit and grew up in Dearborn — uses her comics to discuss her experience growing up in a large Muslim community. She's been making comics since 2017 and is most known for her webcomic-turned-book Yes, I'm Hot in This about being a hijab-wearing woman in America. She's also published several graphic novels including Huda F Are You? and That Can Be Arranged: A Muslim Love Story. Her latest effort, Huda F Cares is due out later this year.
"I've always loved storytelling since I was like five years old," Fahmy says. "I told my mom I wanted to be a writer and she was like, 'That's a hobby, you're gonna be a lawyer,' but it just stuck with me. When, unfortunately, experiencing hate and Islamophobia, my natural response was just to find the humor in it. I started off wanting to tell my stories, which was very much in direct response to when Trump was elected and the Muslim ban was happening and we were seeing a lot of awful just inaccurate misrepresentation of Muslims, Arabs, and women in hijab."
Frustrated with the lack of Arab representation, Fahmy decided to start writing the stories she wanted to see and later illustrating them.
"Even when the media was trying to represent Muslims, it was always done in a way that wasn't authentic," she says. "For example, the woman in hijab was always taking her scarf off for some white guy. It was like, OK, can you tell a different story already? Can you highlight a woman who wears hijab, loves that she wears it, and it's part of her but also isn't her entire personality?"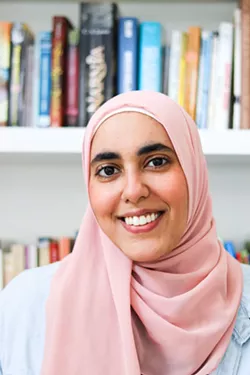 Fahmy lives in Houston now but says there's nowhere like Dearborn, where she frequently returns to visit her family.
"Dearborn just has this cozy, warm feeling," she says. "I don't know any other city where you're driving a major road like Ford Road and next to Henry Ford Community College and a giant masjid there are little old ladies on the side of the road picking grape leaves off the bushes to take home and make grape leaves."
Rosa White, creative director, social impact and special projects for MTV Entertainment Studios, says the company wanted to collaborate with Fahmy for Arab American Heritage Month after finding her comics on Instagram.
"There are a lot of other months that tend to get a lot more love and a part of this initiative period is to make sure that we spread the love to all the communities," she tells Metro Times. "We're aware of the lack of visibility that this community gets and we think that Huda's unique, light, and humorous perspective is the perfect marriage for us and our ability to lend our platforms to the creators to tell stories that only they can tell."
The short is only 20 seconds, but being featured on a national platform feels profound for Fahmy.
"It was something that I dreamt of as a kid to see people like me represented," she says. "My friend sent me a video of it when they were watching TV and it came on after The Office so to know that it's been airing on Comedy Central, is something I don't really have words for. In the grand scheme of TV, I know it's a small little piece, but it's mine and the team's and it's just wonderful and emotional."
Fahmy's short will run on MTV, Comedy Central, Paramount Network, CMT, Logo, Smithsonian Channel, PopTV, and TVLand throughout the month of April.
Coming soon: Metro Times Daily newsletter. We'll send you a handful of interesting Detroit stories every morning. Subscribe now to not miss a thing.

Follow us: Google News | NewsBreak | Reddit | Instagram | Facebook | Twitter