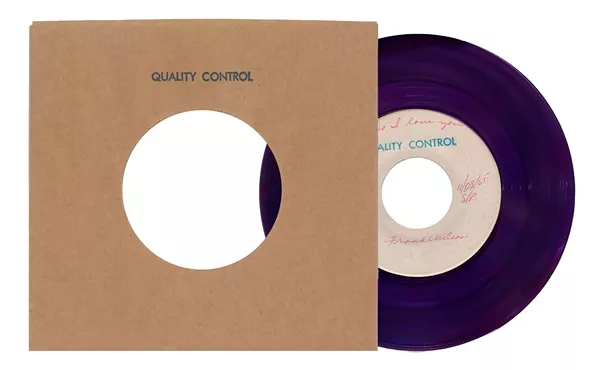 The Holy Grail of Motown singles is finally getting a formal release this coming Record Store Day with help from two staples of Detroit music.
Up until this past February, less than a half-dozen copies of
Frank Wilson's "Do I Love You (Indeed I Do)"
were
left on Earth. Recorded in 1965, 250 demo pressings were made on the Motown subsidiary label Soul. Before their release, most of the records were destroyed at the wish of Motown founder Berry Gordy, who was displeased with Wilson's vocals.
Eastpoint record store and self-proclaimed "museum of music" Melodies and Memories just so happened to own one of the rare 45" records.
"Goldmine Records called it the '$100,000 45,'" said Denise Zieja, co-owner of Melodies and Memories. "It's the highest priced 45 that's ever been sold in the history of records."
Denise and her husband came across the lost gem of Northern Soul in a pile of used records they received. Denise said they found the record in perfect shape and kept it on display in their store until a familiar face came through the door.
Jack White purchased the Wilson record from Melodies and Memories soon after they discovered it. Now, White's own Third Man Records will be reissuing the long-lost treasure on purple vinyl exclusively for Record Store Day.
"It's huge that we're working with Jack White," Zieja said. "We got to go watch the records being pressed. It's phenomenal."


The story of Wilson's record expands far beyond Detroit. Collectors of Motown and Northern Soul Records around the world have long viewed this record as their White Whale — a rare treasure talked about by many collectors but owned by only a lucky few.
Once the news was released that a small pressing of 4,000 records will be made by Third Man Records, the phone at Melodies and Memories began to ring.
"People from Germany, the U.K., and the Netherlands are hitting us up for their Record Store Day articles," Zieja said. "We're being interviewed by people all over the world."
Copies of the re-pressed Wilson 45's will be available at Melodies and Memories as well as Third Man Records on Saturday, April 21 as part of Record Store Day 2018.
For more information on both stores, visit
ThirdManRecords.com
and
Melodies and Memories on Facebook.
Listen to "Do I Love You (Indeed I Do)" below.
Anthony Spak is an editorial intern with the Metro Times and a recent graduate of Oakland University's journalism program.