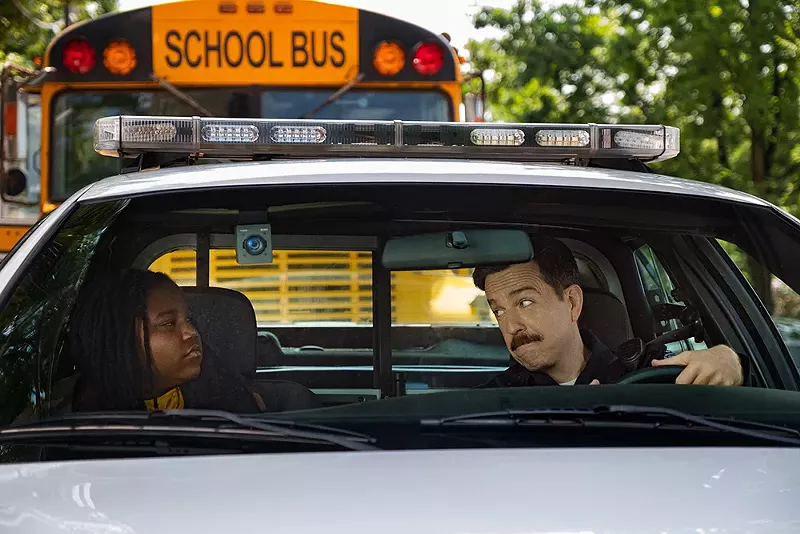 Looking to join the ranks of great films set in the Motor City like
RoboCop
,
True Romance
,
8 Mile
, and
Only Lovers Left Alive
is
Coffee & Kareem
, a new Netflix exclusive starring Ed Helms and
Empire
star and Golden Globe-winner Taraji P. Henson.
OK — so,
maybe
this raunchy buddy-cop movie isn't gunning for a top spot in the pantheon of classic Detroit movies, but it might make us forget about this dystopian hellscape we're currently living in.
Ed Helms (
The Hangover
,
The Office
) stars as James Coffee, a bumbling Detroit cop in the throes of a new relationship with Vanessa Manning, played by Henson. Meanwhile, her 12-year-old son, Kareem (Terrence Little Gardenhigh) is all but pleased with his mother's new mustachioed gentleman caller.
"Pig stuck his dick in the wrong blanket," Kareem says.
So
, in an attempt to cut him out of the picture, Kareem attempts to
casually
hire some criminal fugitives only to unknowingly uncover a massive criminal enterprise. Can you see where this is going? An action-packed, expletive-fueled life-or-death chase through Detroit ensues.
Though not many recognizable Detroit spots or landmarks are featured in the trailer — save for the Detroit skyline and a glittering Michigan Avenue strip club, Club Venus — we suspect this movie might leave us with a tinge of nostalgia considering, you know, we have no idea when we'll be able to rage in Detroit again.
For now, we have movies.
Coffee & Kareem
will begin streaming exclusively on
Netflix
starting Friday, April 3.

We have a new events newsletter! Find out the best things to do in the area every Thursday morning in your inbox.