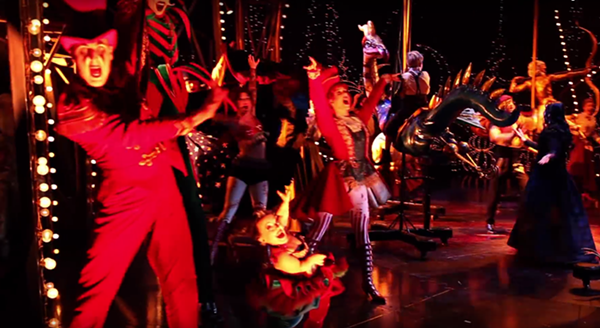 Those of us on Team Opera Ghost will be pleased to hear the Phantom will have a shot at redemption this October when
Love Never Dies
, a
Phantom of the Opera
sequel, comes to the Fisher Theatre.
Now, now, we know what you're thinking. A sequel? Most are bad. I mean, with the exception of
Sister Act 2: Back in the Habit
, they're all terrible. But, according to reviews,
Love Never Dies
is actually pretty good, plus Andrew Lloyd Weber is involved and pretty much everything that man touches turns to musical gold.
The colorful musical will still involve our fave love triangle, namely the Phantom, Christine Daae, and Raoul, but first we'll be transported across an ocean and a decade.
O.G. has escaped the Paris Opera and traveled to New York where he's delighted to find the entrancing world of Coney Island. Naturally, he is drawn to the freak show scene and things seem to be going well for the musician/murderer.
Yet, there's trouble in paradise for Christine. It seems the Phantom situation was a trigger for Raoul, who has since descended into a life of drinking and gambling that can no longer be financially supported by Christine's success as one of the world's finest sopranos.
As a sort of money grab, Christine takes a gig in NYC and she, Raoul and their young son Gustave travel to the Big Apple where they inevitably become entangled in the Phantom's web once more.
The sequel has actually been around since 2010 and has been performed in Australia, Denmark, Japan, and Germany, but this is the first time it will be performed in the U.S.
As a slightly fanatical Phantom fan, I was skeptical, but you can watch the trailer and decide for yourself.
The tour comes to the Fisher Theatre Oct. 17 through 29. Tickets go on sale on June 11 on broadwayindetroit.com. They start at $39.