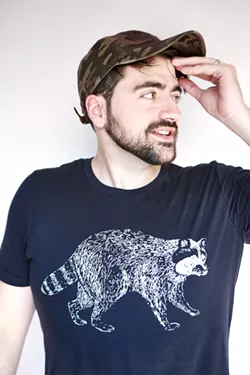 Known to many as "The Liberal Redneck," Trae Crowder is a new breed of Southern comedian. The Tennessee funny man has gained recognition for his
viral video blogs
which show him opining on a variety of topics through a Dixie lens, including Trump's Muslim ban, Roy Moore, Black Lives Matter, and other hot social topics. Crowder films the short videos in his backyard, usually wearing a cut-off tank top and a scrunched camouflage baseball cap and speaking with his thick southern accent.
Crowder's blend of unapologetically Southern sensibilities and progressive ideals were unexpected but welcomed during the 2016 presidential campaign and election seasons. "The Liberal Redneck" persona became more than just a novelty, and helped Trae to transition into legitimate political commentary beyond his own backyard. In the last few years, Crowder has appeared on
The View
,
Real Time with Bill Maher
, and CNN alongside his comedy partners Drew Morgan and Corey Ryan. The trio have also launched their own podcast,
WellRed Comedy
, which has reached over 1.5 million downloads internationally.
Metro Times
spoke with Crowder the morning after he returned home from a four-day comedy tour and a few weeks ahead of his upcoming Detroit date on the current WellRed Comedy Tour, presented by Progress Michigan.
Metro Times:
You're very vocal on social media when speaking out about social issues. What issues do you see at play in Detroit?
Trae Crowder:
With Detroit specifically, I think I'm about as aware as most people from other parts of the country about the problems that Detroit has had in recent times with how bad it has been rash with economic issues. My understanding is that it has bounced back. I'd be interested to find out more.
MT:
Maybe we can get you a
Metro Times
subscription to keep you up to date.
Crowder:
[Laughs]. Detroit gets a bad rap a lot of the time. I enjoy coming to Detroit. I mean this well but I've always sympathized with Detroit because I'm from a place that is often misunderstood or shit upon by the people that really don't know that much about it. It's always made me sympathize with the area in general. I've always kept an open mind and had a good time. I've always had a soft spot for Detroit.
MT:
The Detroit show is part of a larger tour. When you're doing a comedy tour, are you doing shows every night?
Crowder:
It's a little different than large scale band touring. We're fortunate in that we don't have to mobilize — there's no equipment or roadies. It's just the three of us. We're pretty consistently on tour but its for days at a time and not weeks at a time.
A lot of times its every night in a different city. Fly to a city, rent a car and drive to the next city. Fly back out of the last city and go home. I've been gone for four days and I got home last night. I'm doing stuff down here in L.A. for a few weeks or else I'd be back on the road again.
MT:
How did you meet Drew and Corey and how has the podcast helped to shape your friendship?
Crowder:
I met Drew and Corey by doing stand-up comedy together in East Tennessee. Corey started in Chattanooga and Drew and I started in Knoxville. We met about seven years ago and became pretty fast friends because of the things we have in common comedically.
For a long time if you were a comedian from the south, there was one of two ways to go about that — to drop your accent completely and totally ignore the fact that you were from the south or to go full-on Cable Guy. All three of us were all doing something a little different from that. We were very Southern but not in the stereotypical blue-collar way. We bonded over that early on. By the time we started the podcast, we were already best friends and it was a very natural extension of things.
The plan now is to keep rolling with the general format of the podcast. I live in California, Corey lives in Georgia, and Drew lives in Tennessee but we tour together very frequently. We make it a rule that we record together physically in the same room. There are podcasts out there that record remotely but it doesn't feel the same to us. Early on, we were trying to have interview subjects every week but that can be hard to schedule along with a tour. We don't want to have to have a guest every week.
We have been experimenting lately with recurring segment using fake voicemails that we get from "fans" but it's really just one of doing a comedy bit. That's part of what I like about doing a podcast — there are no rules, really. Corey and Drew tell me they're planning on moving to L.A. later this year so the way in which we schedule the podcast will become more formalized.
MT:
You go by "The Liberal Redneck." Some in the North may think of the South as super conservative and religiously backward. Is there a larger part of the South that is liberal or do you still think of yourself as an outsider?
Crowder:
I grew up in an extremely rural part of Tennessee in a town called Celina. In those parts of the South, I'm very much an outlier but not a unicorn either. When I say rural — there's no traffic light, no McDonalds. I graduated high school with 60 people. Its very rural. My friends that I'm still with from back home, they're all aligned with me politically. They're progressive and hate Donald Trump. Yeah, it's only five dudes, but five dudes from a place like that is not insignificant.
In Southern cities among people of my generation, I wouldn't even say I'm an outlier. Look at a voting map and you'll see its weighted more progressive to conservative in the urban areas of the South. I'm not uncommon at all in the cities but I'm a country boy originally.
Trae Crowder will perform on Saturday, April 21 at the MRCC Banquet Center; Doors open at 6:00 p.m.; 23401 Mound Rd., Warren; 585-757-9101; mrccbanquetandconventioncenter.com; Find tickets here.

Anthony Spak is an editorial intern with the
Metro Times
and a recent graduate of Oakland University's journalism program.