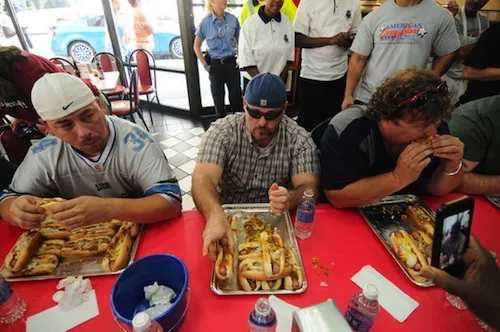 It's that time of year again: Time for that Detroit-themed event of competitive eating par excellence, the Coney Eating Challenge. Those with cast-iron digestive tracts are invited to consume as many coney dogs as humanly possible. For 10 death-defying minutes, contestants will eat as many of these fully loaded delicacies as they can. Some will sink from their stool in defeat, and only one will walk (or waddle) away having won the prizes: a coney championship belt, gifts from local retailers, and one s of free meals at American Coney Island.
One man could tip the balance of this struggle of the stomachs, and that's back-to-back champion Matt Holowicki, whose record of 19-½ coneys has yet to be beaten. Holowicki,
who was nice enough to let us interview his last year,
is a feared competitor. He regularly wins competitive eating contests around town, although he has officially retired from the Paczki Day packzi-eating contest.
Registration is open for anybody hungry for the title of "American Coney Island Coney Dog Eating Champion." Registration fees: $10 individual competitors in advance; $15 on the day of the event. Event is open to the public.
At 5:30 p.m., a special challenge heat between Detroit Police and Detroit Firemen will take place, and at 5:45 p.m. the main event, the Coney Dog Eating Challenge, begins at American Coney Island, 114 W. Lafayette Blvd., Detroit; see AmericanConeyIsland.com for more info.