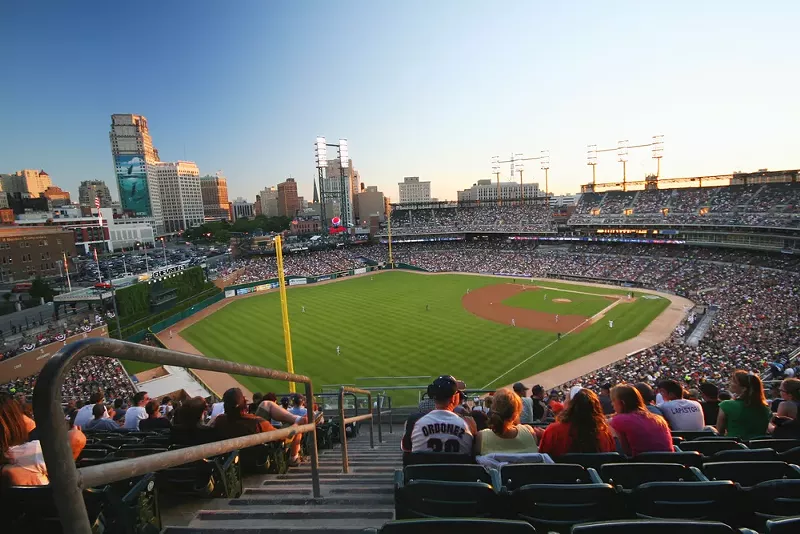 This is what we get for trading
Kate Upton
Justin Verlander to the Houston Astros. We've cursed the baseball gods and they're cursing us right back.
As the
Detroit News
reports, the Detroit Tigers are set to have a stinking bummer of a season. After trading Verlander — among other A-list players — last season, they'll likely spend most of this season rebuilding the team.
But, they've stunk before. They spent most of the '90s stinking to high heaven, and that never stopped roving bands of suburbanites from descending upon downtown Detroit in order to celebrate the unofficial start of summer — aka Tigers Opening Day.
This year, however, a confluence of factors will likely produce below average attendance at the yearly fete. The early date — Detroit rarely has an Opening Day prior to April 1 — could be one of the biggest factors. We've had
below average temperatures
since spring began a few weeks ago and the cold weather could keep people from buying tickets.
The date's proximity to Easter — and thus, Spring Break — could also keep people from buying tickets. It's hard to drink your weight in pilsner when you have little Jaden in tow.
The
News
also speculates the Thursday date could be a factor, as well as the fact that we're playing the Pittsburg Pirates who are not, as they say, a marquee opponent.
Of course, this could all prove to be pay dirt for fans who waited until the last minute to nab tickets to the game. While tickets for the Tigers first game of the season are usually sold out by now, many tickets remain for sale on
mlb.com
as well as on secondary sites like
VividSeats.com
, where they can be purchased for as little as $33 a ticket.