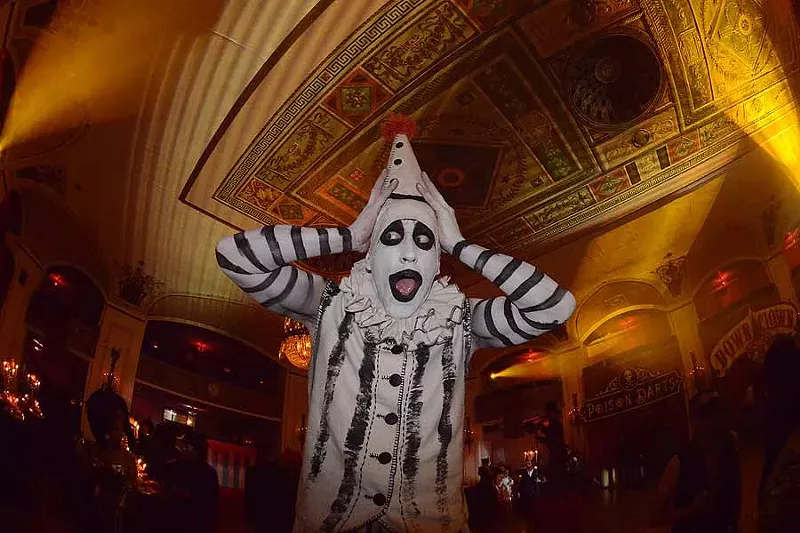 In 2015,
Theatre Bizarre founder John Dunivant told Metro Times that the then 15-year-old Halloween celebration was on its last leg
. A cash-strapped Dunivant and a crew of over 100 artists and craftspeople were finding it hard to keep the immersive and macabre festival independent.
"Essentially it's putting me in debt every year," Dunivant said.
But, in 2016 Theatre Bizarre returned and, for the first time in the party's history, became
a two-weekend fete
. Doubling its days opened allowed Dunivant and his crew to maximize the intricate and costly set-up that makes Theatre Bizarre the sell-out attraction it is.
Today, Theatre Bizarre organizers announced the event will once again return for two weekends this Halloween season.
On Oct. 13-14 and 20-21, Theatre Bizarre will return to the Masonic Temple and in the same tradition will offer a more formal event on those Friday nights and a more relaxed "9-hour marathon of nonstop debauchery" on the Saturday nights.
For all four nights the festival will transform that already creepy Detroit Masonic Temple into a dark portal filled with strolling and aerial performers, burlesque dancers, carnival games, and live music. There will also be a Victorian-style ice cream parlor serving liquor-infused treats; a cinema offering vintage international erotica and horror; and a wild "Ghost Train" ride that takes place in the dark on the seventh floor, according to a press release.
Tickets for all 2017 dates are already on sale.