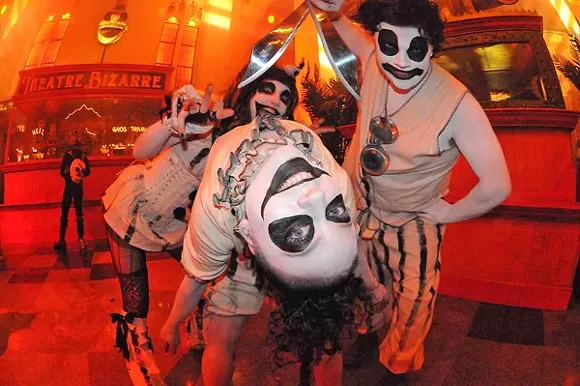 The masterminds behind Detroit's annual
Theatre Bizarre
, which returns to the Masonic Temple in October, announced a ticket presale event at Ferndale's
Rust Belt Market
.
From Aug. 7-9, organizers will offer reduced-price tickets for the event, which has sold out for years. A limited amount of discount tickets are available at $70 apiece for the main event on Saturday, Oct. 17, and $200 each for the preview gala on Friday, Oct. 16. Tickets are limited to two per customer. Remaining tickets will be $80 for the main event and $250 for the preview gala.
In typical Theatre Bizarre fashion, the presale event promises to be a spectacular unto itself with music, burlesque, drinks, and more. The event is 7 p.m. to 2 a.m. on Friday, Aug. 7, 11 a.m. to 2 a.m. om Saturday, Aug. 8, and 11 a.m. to 6 p.m. on Sunday, Aug. 9. The Rust Belt Market is located at 22801 Woodward Ave., Ferndale.
Now in its 14th year, Theatre Bizarre got its start as an illegal party thrown in an elaborate Halloween-themed backdrop built near the Michigan State Fairgrounds, helmed by artist John Dunivant. In 2010 the city of Detroit shut the event down "for various and obvious reasons" according to a press release. At first the event relocated to the Fillmore in a last-minute scramble and settled on the Masonic Temple in 2011, where it has remained since.