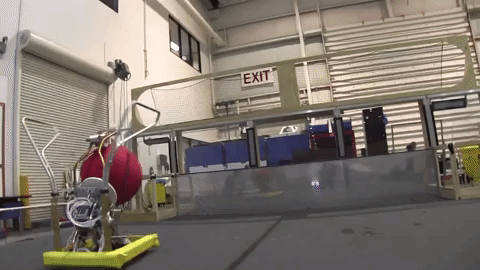 Robots, get ready to rumble. It's time for the FIRST Robotics World Championship in Detroit this Wednesday.
Described in a press release as the "Super Bowl for nerds,"
organizers expect the event to draw 40,000 visitors to Detroit
, including more than 700 teams from around the world, who'll compete in four levels of competition spread across the Cobo Center and Ford Field in Detroit. Michigan is no stranger to the competition; a team from Bloomfield Hills won a second prize in 2014. The competition, which has been held in Georgia, Missouri, and Texas, will have a home in Detroit for the next few years.
What does it look like? Lots of tears, hurrahs, and primary colors (thanks to Legos). In fact, here's your obligatory promotional video showing the dizzying highs robotics competitions induce among young people:
The event will draw so many people that the state of Michigan will even hang its own shingle downtown that week, touting something called "
Imagine Michigan
" at the GM Renaissance Center. Admission is free, and guests will be able to visit with representatives from dozens of companies and universities, including Dow Chemical, Fiat Chrysler, Pfizer, and the University of Michigan.
Want to learn more? Take a look
here
. But if you see a few more robots than usual downtown this week, don't worry. It's just 15,000 nerds building the machines that will take your future jobs – presumably, even if you want to play basketball.