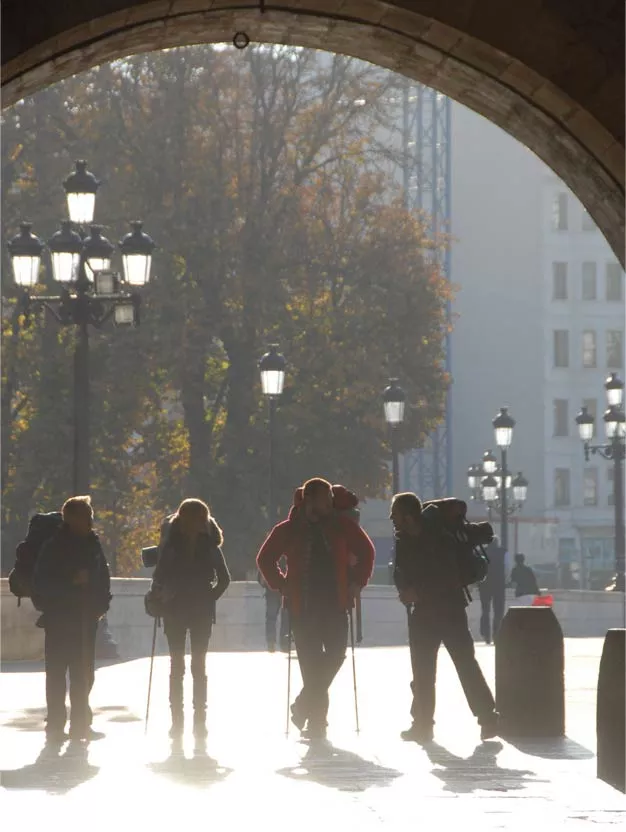 Emilio Estevez, both as an actor and a filmmaker, is nothing if not sincere. Ever since he played the jock who falls for the geek girl in The Breakfast Club, his career has been punctuated by characters and projects that drip with earnestness. Watching his recent films (Bobby, The War at Home), it's clear that the actor-turned-director sees cinema as a meditative medium for his well-intentioned ideas and viewpoints. It's a welcome counterpoint to his more famous bad-boy brother's antics, and the artistic answer to dad Martin Sheen's social and political activism.
Still, art requires more than just intention, and Estevez hasn't quite found the skills to balance his sense of storytelling with his desire to impart meaning to his work. The Way, an unpretentious drama that deals with grief and transformation, is uplifting without being maudlin, and has a heart on its sleeve sincerity that sidesteps sentimentality. It's also a bit too long and a bit too obvious.
Tom (Martin Sheen) is a conservative SoCal optometrist who gets the phone call every parent fears: His wanderlust-struck son (Estevez) has died, caught in a storm as he started his hike along El Camino de Santiago, a thousand-year-old pilgrimage route through Spain's Basque Country. In an attempt to reconcile his grief, Tom decides to complete his son's 500-mile journey, scattering his ashes along the trail. Initially wanting to keep to himself, he eventually befriends a trio of movie-friendly misfits, the kinds of damaged characters you find in road films and paperback novels. First there's Joost (Yorick van Wageningen), a jolly, decadent bear of a Dutchman who's hoping the months-long hike will shrink his expansive waist. Then there's Sarah (Deborah Kara Unger), an angry, chain-smoking Canadian haunted by domestic abuse. And rounding things out is Jack (Jekyll's James Nesbitt), a motor-mouthed Irish travel journalist struggling with writer's block who sees Tom's tale of woe as a literary opportunity. Through various low-key misadventures — a run-in with gypsies, a kooky innkeeper — they reveal their backstories as the bonds of friendship grow.
With its scenic valleys, al fresco meals and lovely medieval towns, there is little doubt that The Way will inspire more than few to book a flight for the Spanish walkabout. Estevez has produced a persuasive travelogue. As drama, however, his film delivers somewhat more mixed results. His script — taken from Jack Hitt's book Off the Road: A Modern-Day Walk Down the Pilgrim's Route Into Spain — is clumsy, episodic and repetitive, struggling to obscure turns in the plot we can see from miles away, indulging in actorly moments, and running nearly 30 minutes longer than it should. Too often Estevez concludes his encounters with a song from his iPod playlist (Nick Drake, James Taylor, and, tragically, Alanis Morissette) before launching into another picturesque travel montage.
Still, his approach is admirably gentle and insistently intimate. Though platitudes abound, The Way delivers them in such a disarming manner that it's hard to take offense. Some might accuse him of being spiritually generic, but he imbues his movie with a universal appeal that's refreshingly inclusive.
Estevez is on even sturdier ground with his appealing cast, most especially his father. Sheen never once gives in to sentiment, letting Tom's emotions express themselves with convincing grace. It's a masterfully understated performance that sells the movie's embrace of faith, healing and community.
Ultimately, road movies are more about the journey than the destination, and The Way is no exception. Though its characters forge their relationships through drunken bickering and emotionally charged confessionals, when they finally reach Galicia, Spain, Estevez captures their reactions without dialogue or drama. It's an appropriately unpretentious choice that expresses the personal epiphanies that come with travel. Yes, the time spent getting there was bumpy and, at times, boring. But in the end, inexplicably, it seems worth it. —Jeff Meyers
Showing at the Birmingham 8, 211 S. Old Woodward Ave., Birmingham; 248-644-3456, and at the AMC Livonia 20, 19500 Haggerty Rd., Livonia; 888-262-4386.