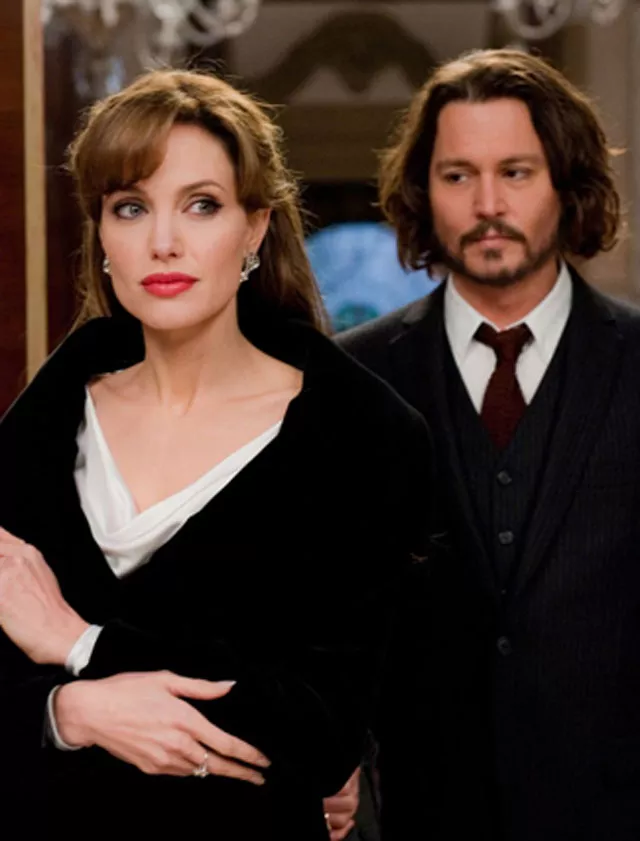 Not content being the reigning most beautiful woman in the world, Angelina Joile is seemingly attempting to crib the style of screen queens from glamorous days gone by. As a result, The Tourist plays something like a drag ball, as Jolie tries on chic outfits, puts her hair up and cops poses straight out of the portfolios of Sophia Loren, Julie Christie and Grace Kelly. There are less pleasant ways to spend an afternoon perhaps, but it's hard to invest in the drama of cloak and dagger, when the female lead treats it like a game of dress-up. Of course, Jolie is only part of the problem; she's paired with the brilliant Johnny Depp, an actor bent on imprinting his every role with more nooks and crannies than an English muffin. Trouble is, he's supposed to be playing a dumpy everyman, yet his average Wisconsin nice-guy-schoolteacher act is exactly as you'd expect a famous movie star — who privately lives in the south of France and made a fortune off of flamboyant pirate pictures — to behave.
There's not enough oxygen in any room for these two giant egos to share, yet the script keeps shoving them into train compartments, plush hotel suites and speedboats, hoping for sparks, though they're about as cuddly together as alien intelligences from different galaxies making first contact. It's a shame, because the plot, adapted from little-seen French film Anthony Zimmer, has potential for intrigue and some popcorn thrills.
Jolie stars as the smartly named Elise Clifton-Ward, who not so smartly is involved with a mysterious man called Alexander Pierce, who is being hounded by both Interpol and viscous Russian gangsters for high-level financial chicanery. Our unseen cad instructs Angie to board a train out of Paris and quickly cozy up to a random stranger of similar height and build, to confuse the high-tech bloodhounds on their trail. She chooses Depp's Frank Tupelo, a supposedly ordinary schnook, nursing a broken heart with a solo European vacation. Roughly 90 seconds later these two are madly in love, and spend the next 90 minutes gazing deeply into each other's souls, while occasionally giving the slip to the various cops and goons chasing them through the tortuous canals of Venice. If only the storyline had more turns, as the conclusion is as easy to guess as it is hard to wait for. Able sidemen such as Paul Bettany and Timothy Dalton (nice to see him in a spy caper again) try their damnedest, but it's hard to overcome the leads' inert chemistry.
Mellifluously named director Florian Henckel Von Dannersmarck made the elegantly clever and creepy East German spy drama The Lives of Others, but here he dribbles glamour over everything, killing the fun. The intent was for Mr. and Mrs. Smith-style excitement with crafty, duplicitous intrigue, but the director is ill-matched for the job. He's so intent on lighting his stars just right, and displaying them against gorgeous scenery, that he forgot an action movie was taking place behind the lovely travelogue.