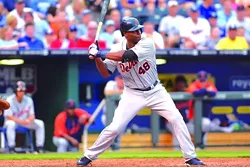 ON MOST SPORTS TEAMS, the star players shine and everybody else lets them. With the Tigers' star-studded roster, one in which winning AL MVP awards has become the norm, it can't be easy to play every day in the shadow of guys like Miguel Cabrera, Justin Verlander and Prince Fielder.
However, despite the fame and prowess of the Tigers' most notable players (you might think I'm crazy when you read this next part), when all is said and done this year, Torii Hunter should be the Tigers' MVP. I'll let that sink in.
Sure, Cabrera will probably win his second consecutive AL MVP award and Max Sherzer will likely win his first Cy Young Award, but those honors are based on mere statistics. Hunter means more to this team than just an RBI total or a big hit.
A Leader
Last Wednesday night, Sept. 25, after clinching the AL Central and donning their celebratory gear, the Tigers huddled in the locker room. Guys started to euphorically pop the corks of their Champagne bottles, but then there were hushes. Everyone stopped and the room went silent.
A lot of guys on that roster had the credentials to stand up and give a speech. It could've been the Tigers ace for the past five years — who's won all kinds of accolades (Verlander) — or last year's Triple Crown winner and AL MVP (Cabrera). Or even a guy like Ramon Santiago, who's played 10 of his 12 major league seasons in Detroit and been on every Tigers playoff team in the past decade, and even the worst team in Tigers history (2003); in the end, it was none of those guys.
It was Torii Hunter, in just his first season in Detroit, taking the reins by standing up and giving a short speech. And it was Hunter who had organized a late-game huddle in the dugout a couple hours earlier.
"We only had one run so I was trying to get a rally going," Hunter told the press following the victory. "I told them, 'Let's go, let's get something going. Let's change it up a little bit, because every inning was just going through the motions.'"
He recognized what was going on, and tried to rally the troops — his troops. It's leadership like Hunter's that will pay dividends down the stretch in a heated playoff series.
A Veteran Presence
Playing in his 17th MLB season, the 38-year-old Hunter isn't young anymore. He's played four more seasons than the Tigers' next most-experienced player, Victor Martinez. Hunter has been on winning teams and losing teams, seen slumps, injuries and just about everything baseball has to offer. Except for one thing: winning a World Series. Time is running out. Hunter signed with Detroit during the last offseason — taking a pay cut — because winning that first elusive World Series was more important to him than superstar pay.
"I don't need much [because] it's not about the money," Hunter said. "It's about winning, and that's what I want to do … the older you get in this game, the real thing is to win — and win championships."
Just like Hunter's leadership ability, his experience can't be measured by statistics. To younger outfielders like Austin Jackson and Andy Dirks, Hunter is a role model. He's won hordes of Golden Gloves in the outfield, consistently produced year in and year out at the plate, and continues to contribute late in his career.
Speaking of "late in his career," here are some stats for you: Before the end of the regular season on Sept. 29, Hunter was on pace to finish with his second-highest batting average ever, including around 100 RBIs. Not too shabby for a guy with three kids in college.
And that's why he's your MVP, Detroit. He does it all. His contributions on the field have equaled those off the field. Hunter's the talent you expected of a team's regular left fielder. He's not leading the team in any statistical category, but that doesn't make him any less valuable.
Michael Laurila writes about sports for Metro Times. Send comments to [email protected]