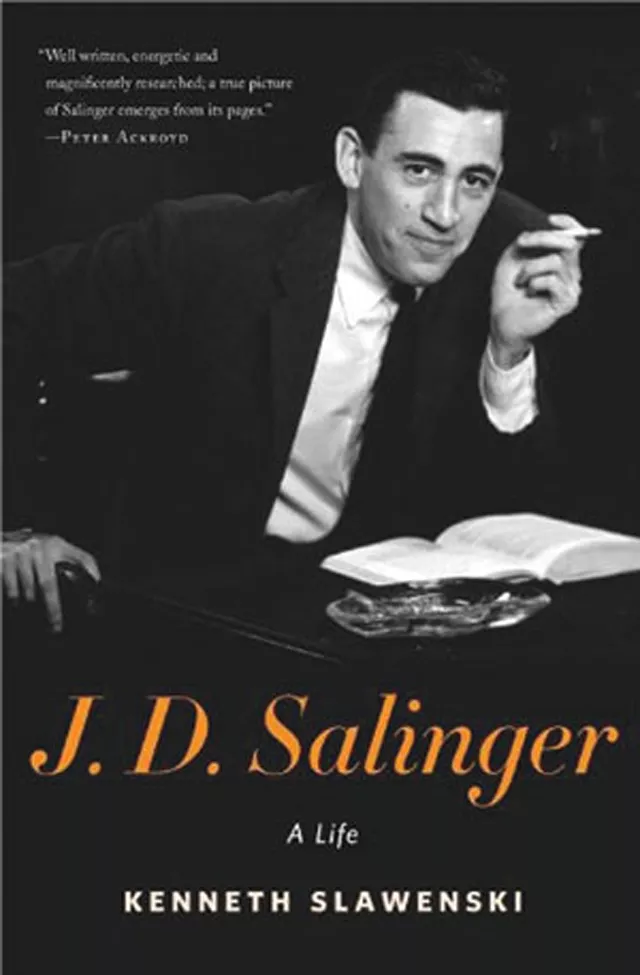 J.D. Salinger: A Life
by Kenneth Slawenski
Random House, $27, 464 pp., hardcover
There were, as it happens, three J.D. Salingers. There was the reclusive, apparently stingy Salinger who, beginning in the 1960s, shut himself and his manuscripts away from public view and retained lawyers in a failed effort to curate the world's perception of him. There was the complicated, continually evolving Salinger, whose short, long and novella-length fictions doubled as coded or not-so-coded journal entries. Then there was the real Salinger, who passed away on Jan. 27 of last year — an ultimately unknowable amalgamation of the first two Salingers. In J.D. Salinger: A Life, biographer Kenneth Slawenski goes off in search of the third Salinger, finds the second Salinger, and dashes the widely accepted caricature that was the first Salinger.
For most, Salinger begins and ends with The Catcher in the Rye and, perhaps, Nine Stories; the outcast universality of the former and sweet 'n' sour symbolism of the latter color memories of high-school and undergraduate English exams, but before too long it's onward and upward to William Faulkner, to Erica Jong, to Donald Barthelme, to Hunter S. Thompson, to Joan Didion. Salinger and Holden Caulfield, Catcher's insolently brave narrator, become irrevocably intertwined and associated with adolescence and its bygone follies, making the author easy to dismiss — as if Salinger's life had never drifted further into adulthood's minefields, fertile with new characters and concepts.
Given his boyhood in 1920s New York City, it's easy to grasp that the socialites and malcontents who peopled Salinger's early fictions were founts of foibles and affectations. Hungry and prolix, the college-dropout author's artistic and commercial sides were at war, as evidenced by the 1941 story "The Heart of a Broken Story," where Salinger spun a love-at-first-sight yarn — only to derail his own narrative because "the characters are simply too ordinary for the plot he has envisioned," Slawenski writes.
World War II would resolve this fence-sitting dilemma — between the lure of high art and pap that would earn Salinger fat paychecks from magazines like Collier's and Esquire — by plunging him into a moral no man's land, bouncing him hither and yon through the European theater as a counterintelligence corps officer.
Slawenski's accounting of the slog-like battle and siege of Hürtgen Forest, where Salinger's unit found itself mired in the last days of the war, is harrowing: "Men froze to death in their foxholes or lost limbs to frostbite. The filth of the place was inescapable, and the weather was either drenching wet or cold." Given all this, the miracle wasn't that Holden Caulfield, Caulfield's siblings, and other notable characters emerged from Salinger's pen during these years, but that Salinger found the determination and fortitude to conjure parallel worlds and tell his stories simultaneously, shipping manuscripts back to the United States from the front.
Back at home, he would grapple with new and no less humbling conflicts: a co-dependent, sometimes rocky relationship with The New Yorker; the publication of Catcher and the subsequent wild acclaim; internecine, behind-the-scenes double crosses at the hands of editors; an inability to balance a writing career he viewed as a spiritual vocation with the demands of family life; and his oeuvre's slow-roll into religious allegory and pure symbolism on the Glass family's shoulders. After The New Yorker published the improbable, baffling, rambling "Hapworth 16, 1924," Salinger effectively receded from the literary stage.
Slawenski is no hagiographic sycophant; he views his subject realistically, clear-eyed, articulating his strengths and shortcomings: his Salinger is a tragic figure whose recoil from the public spotlight only serves to invite more scrutiny, forcing him to retreat into a world where he worked on stories he never deigned to publish. And while Salinger: A Life leaves the reader curious about what those works contain, it's an in-depth, considered guide to his two-dozen pieces that saw very limited release but were never formally collected in the manner of Nine Stories or Franny and Zooey, a result of Salinger's fanatical legacy micromanaging of his legacy. It's long past time for a Salinger renaissance — a ball that, hopefully, Slawenski's excellent book has started rolling.