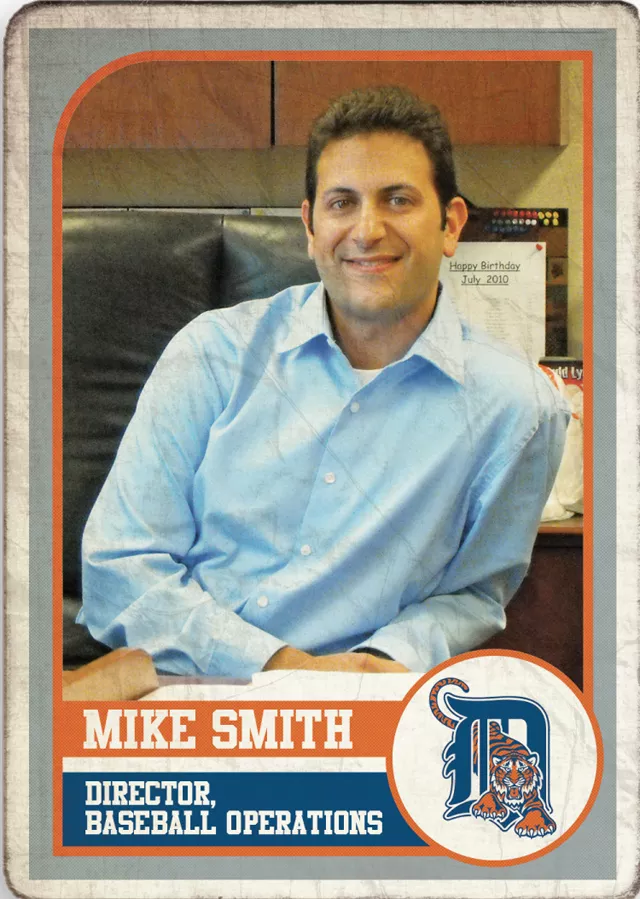 Manager Jim Leyland, the coaching staff and the players have to worry about the hitting, catching and throwing.
The Tigers front office staff has to worry about everything else.
Players' contracts, the shade and thickness of the grass on the playing field, what Tigers clothes fans can buy, what souvenir giveaways they get at certain games, whether the first aid stations are staffed, and if ushers are all in their proper places, for just a few of the thousands of possible examples.
At Metro Times, we leave the Opening Day on-the-field features and analysis to the sportswriting experts — and instead bring you a glimpse of the team that makes the rest of the magic happen, juggling countless operations that all make Opening Day the unofficial Detroit holiday it is.
Mike Smith, Director, Baseball Operations
10th Detroit Opening Day
Previous teams:
Florida Marlins and Peninsula Pilots, a college summer league team.
Job duties:
Arbitration, contracts, work with scouts, statistical work, trade work, Major League Baseball rules and regulations, MLB drug testing, assisting with negotiations and finances.
What that means:
"I'm helping build a baseball team."
Equivalent position on the diamond or dugout:
Bench coach
Training for current position:
Undergraduate degree in geology and geophysics with a concentration in the atmosphere and oceans.
Heather Nabozny, Head Groundskeeper
13th Detroit Opening Day
Minor League affiliation:
West Michigan White Caps for five years.
Job duties:
To make the grass grow to Major League Baseball-worthy standards, to ensure the infield is covered in inclement weather, to keep the dugout, the bullpens and the umpires' tunnel clean.
Backup:
Six full-time seasonal workers, a pool of 45 that rotates for game days.
Recent "injuries":
Increase in special events held on field and the sulfur pellets that ignite the post-game fireworks and then fall on the field and burn out the grass.
Comerica Park field conditions compared to Tiger Stadium:
"From an agronomic standpoint, it's a lot healthier for the grass. We have good air movement here, we don't have too many problems with shading. At Tiger Stadium the walls were really high and it stayed cold in there until June, then it stayed hot until September. ... At Comerica Park, we typically don't have to use any colorant for the turf because it gets warm nice and early in the spring."
Janine Kurpiel, Retail Director, Sportservice, Comerica Park
2nd Detroit Opening Day
Minor League Experience:
Four years with Minor League independent team in Gary, Ind., three years with Philadelphia's Triple-A team.
Reporting time on Opening Day:
4 a.m.
Job duties:
Buying Tigers merchandise for sale at the park, working with designers for new products.
Best seller of the 2010 season:
The Tiger Claw; new in green for this year.
Best prospect for 2011:
The toaster that lightly burns a "D" on the bread
Likely fan favorite for 2011:
The new 6,000-square-foot store at the northwest corner of Comerica Park.
Eli Bayless, Director of Promotions and In-Game Entertainment
10th Detroit Opening Day
Current duties:
"All the fun and games that fans experience at the ballpark." Music, scoreboard content, national anthem performances, ceremonial first pitches, gate giveaways and Paws, the mascot.
Previous team:
San Francisco Giants
Biggest competition:
"Ourselves." Fans can watch games on high-def TV or online, which is much cheaper than being at Comerica Park. "We need people to leave saying, 'That was so much more than a ballgame. It was a wonderful experience and I can't wait to come back.'"
2011 forecast:
31 giveaways, 17 special events, 16 post-game fireworks shows.
Mike Healy, Vice President, Park Operations
7th Detroit Opening Day
Baseball Metaphor for Job:
Clean-up hitter
Oversees:
Facilities, HVAC, tradesworkers, grounds crew, ushers, first aid, security; upward of 800 employees during the playing season.
His season:
Year-round
Other Positions:
Vice president of civic relations and event logistics at Olympia Entertainment.
Pre-game ritual:
Supervises walk-throughs of Comerica Park starting nine days before the home opener. Makes sure plumbing works, lights come on, seats are intact, bunting is hung, carpet is cleaned, beer signs are properly installed and other tasks most of the fans probably, unfortunately, won't think about twice.
Rofeal Daniels, Event Operations Manager
9th Detroit Opening Day
Current duties:
Oversee ushers, organize rides and games, other crowd-pleasing aspects of Comerica Park.
Previous position:
Crowd management and general security for Detroit Tigers.
Favorite part of job:
"Just coming to the ballpark every day."
Does he ever see action:
"You've got to check on your staff, and it just so happens my staff is out near the field."