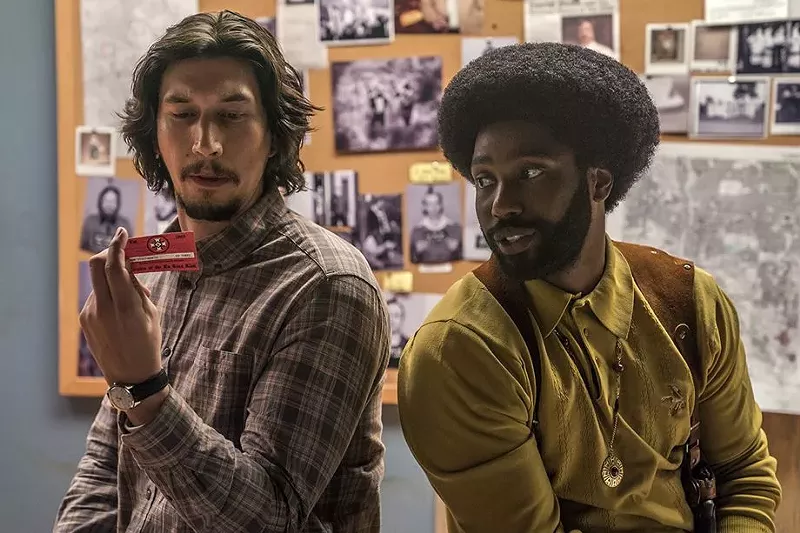 By now you may have heard about the curious case of Rev. James Hart Stern, the black civil rights activist who infiltrated the Detroit-based neo-Nazi group the National Socialist Movement with the goal of destroying it.
The revelations
were made last week
when court documents filed in Virginia revealed that Stern replaced NSM leader Jeff Schoep. Stern intends to use his new role to plead liable on behalf of the group to a lawsuit stemming from the group's involvement in the 2017 Charlottesville riots.
As to how Stern came to rise to leader of the NSM was a mystery up until recently. There are still plenty of questions, but what is known about Stern, who calls himself "the race whisperer," would make for a movie plot à la Spike Lee's
BlacKkKlansman
. Here's what we know:
• This is actually the second time Stern has infiltrated a white supremacist group. From 2010 to 2011, while Stern was imprisoned for wire fraud, he befriended his cellmate — Ku Klux Klan Grand Wizard Edgar Ray Killen — who was locked up for his involvement in the 1964 Mississippi "Freedom Summer" murder. The two struck up a penpal relationship, and throughout more than 170 letters, Killen wound up confessing to his involvement in more than 30 cold case murders. Stern was then able to persuade Killen to hand over his life story and estate, who then disbanded Killen's KKK chapter in 2016. This is all documented in Stern's 2017 book,
Killen the KKK
. Killen died in 2018.
• Through the Killen connection, Stern and Schoep were introduced to each other around 2014. According to the
Washington Post
, both parties dispute who made the first contact, but either way, they agreed to work together on a "race relations summit" in California, "where representatives from Schoep's organization met with black leaders to talk about ways they could work together without violence."
• Once again, Stern forged a relationship with the white leader of a white supremacist group. He told the
Post
that he and Schoep discussed another race relations summit, and also engaged in numerous debates about topics like the Holocaust and white nationalism.
• Earlier this year, Stern says Schoep came to him for legal advice on a 2017 lawsuit filed by a Charlottesville counterprotester against the NSM and other white-nationalist groups. Stern told the
Post
Schoep seemed "rattled" by the cost of the lawsuit. That was when Stern says Schoep handed over control of the NSM and its website, believing it would release him from liability.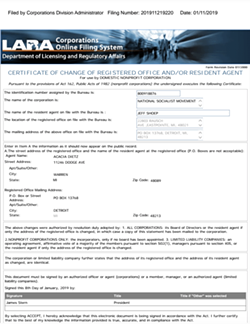 • In January, Schoep filed incorporation paperwork with the Michigan Department of Licensing and Regulatory Affairs to formally transfer the National Socialist Movement to Stern. In February, Stern was listed in court documents for the lawsuit as NSM's representative.
• Members of the NSM were blindsided by the revelation. The group's public relations director, who goes by "SS Capt. Harry L. Hughes III," says he was "waiting in suspense" for Schoep's statement.
• Schoep now denies he transferred ownership of the group to Stern. He later told the
Post
he appointed Burt Colucci, chief of staff of the National Socialist Movement, to take over the group.
• Colucci disputes that Stern is the NSM's new leader, saying that he was president on paper only. "He has not taken over the group," he told
The Detroit Free Press
on Monday. "He definitely needs to be removed from the
organization.
"Colucci says that Stern has no access to the group's website, assets, or bank accounts.
• Stern says he doesn't want to dissolve the group out of fear that its members will reincorporate
it,
but instead plans to change NSM's website into a Holocaust history education website.
• Hilariously, though Schoep is no longer legally affiliated with NSM, he still faces legal consequences in the Charlottesville lawsuit.
• Keegan
Hankes
, a research analyst for the Southern Poverty Law Center, told the
Post
the story was "one of the strangest things I've seen since I started tracking these things five years ago."
Spike Lee, get on this!

Stay on top of Detroit news and views. Sign up for our weekly issue newsletter delivered each Wednesday.