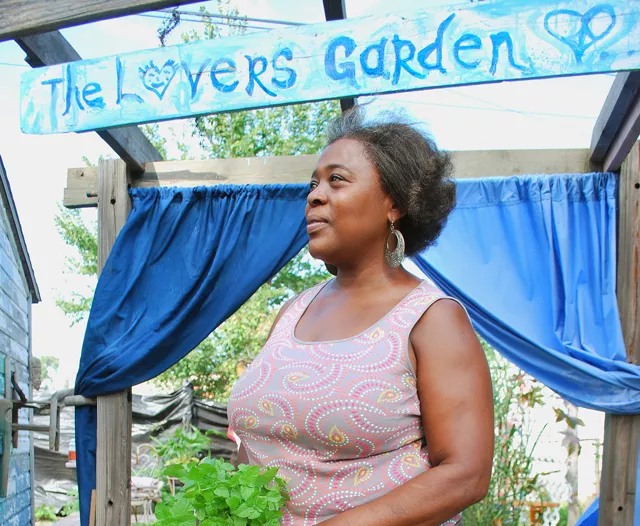 Her wound would not stop bleeding. She'd just had abdominal surgery, was laid up at home, and blood kept dewing up on the incision. She couldn't get back to the hospital right away, so instead she called a friend from down the street, the woman from the neighborhood known for healing people.
Tamra Meadows came over, examined the wound under the dressing, and sent for the one remedy she knew would help fast. Was it some magical elixir? A secret homeopathic blend?
It was cayenne pepper from the kitchen.
Meadows, 53, practices folk medicine, the use of herbs and simple household items to treat illnesses the way they were treated years ago, before people had access to much modern medicine, or before medicine was even very modern.
She used cayenne because it's known to stop bleeding, sometimes within seconds. Most people probably have it on a kitchen shelf. Few know what it can do besides spicing up food. The same goes for any number of herbs and spices and plants in their houses or yards. And such knowledge is what makes Meadows so respected in her community.
A lot of inner-city folks don't have much money, don't have any health insurance, and have little trust for the run-down clinics that cater to the poor. So if their illness isn't too serious, many will rely on folk treatments or natural remedies passed down through families for years.
And they rely on people like Meadows. Her reputation in the neighborhood has even earned her the nickname "The Witch Doctor."
"They say, 'I know you got something over in the yard. I need you to fix me something up,'" Meadows says of her neighbors. She's learned much of what she knows from books she's studied, but a lot of it, she says, just comes to her. "I pray about it," she says. "And I tell them, 'It's not me. It's a power.' Sometimes I tell God, 'Leave me alone.'"
The comfrey grows in bunches. The horehound's stems point to the sun. And the lemon balm sure smells like the real thing.
They're among the herbs that grow in Meadows' lush backyard garden. She knows which are for colds and which are for fevers, the ones that aid digestion or the ones that give you energy or calm you down. She knows which go in you, and which go on you.
Meadows lives in an east side neighborhood on the downswing. Along her street, several homes have boards covering the windows. Others have tall lawns overrun with crabgrass. Some houses just need paint, others need renovations, a few just need to be torn down.
And in the middle of all this neglect, this indifference to beauty, Meadows has nurtured an oasis in her yard.
Thick bouquets of purple flowers bloom in scattered clusters. Wide-leafed hostas spread their leaves along a walkway. Fish swim in a pond that's fed by a trickling hose. A towering tree arches over the yard and spreads its branches wide.
"Oh my God I love outdoors," Meadows says, sitting outside on a late summer day. "I spend hours out here. Sometimes I used to come out from sunup to sundown."
For years she was a Wayne County Sheriff's deputy, until it finally got to her and she just quit one day, several years shy of retirement and its benefits. Something about seeing prisoners mistreated, she says. A few odd jobs later and now she's unemployed, which grants her the luxury of long days in her serene sanctuary.
Her yard's also a gallery of found objects. An antique sleigh. A wood rocking chair. A cast-iron tub she sometimes uses for outdoor baths. All decoratively placed, peeking out of shrubs or leaning against a fence. An out-of-context sign on the swinging gate warns of no hunting at this private club. She found that somewhere too. And a white flag flies in surrender from a tall pole near the yard's edge. "It means I surrender to God," the churchgoer says.
A painted archway leads to the pond beyond the pebble-covered walkway, declaring it "The Lovers Garden" after the place where her mom went in Jamaica to spend her last few weeks of life.
Her Eden is such a peaceful contrast to the shabby standard of the area that it draws the neighbors here, sometimes to hang out, sometimes for advice, sometimes when she's not even home.
"I've had neighbors tell me, 'I was feeling real sad one day and I just went over there and sat in your yard.'"
Not everyone has such reverence for it. Neighbors have come by when she's gone and fished the perch out of her pond. For a while she sold candy and organic food out of her old garage, but someone kept walking off with the Jamaican and African artifacts she sold there too.
But most people, even the local drug dealers, find themselves drawn here just for its tranquility.
"This neighborhood is infested with drugs, and I used to allow, and it's not that I don't allow them now, but when they come I have to give them instructions — you can't be in here cussing people out, and clean yourself before you come in, just mentally. This is my place of peace."
She doesn't heal people so much anymore. After the cayenne stopped her friend's bleeding, the friend went to a doctor, Meadows says. "And when they went to clean it off they said, 'What is in here?' 'She said, 'My neighbor brought some cayenne.' I said, 'You snitch! You're trying to get me arrested!"
Meadows has been careful about her treatments since her mom's death. She'd taken the old woman to Jamaica to pass away in a nicer setting than a Detroit neighborhood, and during those last days her mom kept requesting her daughter's folk treatments to soften the pain of her cancer. Somehow rumors spread that there was this American practicing medicine without a license, and Meadows had to skip her own mother's funeral for fear of being arrested in a foreign country.
"I wasn't practicing medicine," she says. "I was doing what I was doing here for my mom. Whatever she told me to do, I did."
But the scare made her leery. Nowadays she treats only those who already know her, or their trusted friends. She doesn't advertise, doesn't charge money, doesn't make any health claims.
"I do it only if somebody comes and they're serious about it," she says. "There's a lot of energy involved in it and a lot of people don't understand it, and people don't really respect that art anymore. But I don't like to see people sick, and if there's something that I can do to help them, that's what I'm gonna do."
But those who know her encourage her to be open about her skills. Jamiel Wilson, her next-door neighbor, hosts a webcast at w6mx.com. He's a ghettotech musician known as Sixfoe, with a following locally and in Europe, and he's so impressed by Meadows he's creating a show for her on his website.
"Tamra has a good perspective on healing, a perspective that we need in our community," the 38-year-old says. He sees her keeping alive a fading art, and he thinks it needs rekindling in the community. "Tamra has so much knowledge about herbs, what you can take for your body, and just mother experience. 'Cause these younger women need to hear that perspective."
Living next door to the Witch Doctor has its benefits. She gives tips on natural healing, gives him herbs for ailments, even brings new life to his yard without trying.
"We was cutting our grass," he says, "and some of those seeds must've got over here, 'cause I was cutting it and I was like, 'I smell lemon!'"
Aside from the virtue of keeping the old ways alive, and despite the respect she's earned for her abilities, her skills really just serve a very practical, very mundane purpose for her, much as it does for so many of those who come to her. It's simply necessary around here.
"It's a God-given gift I never knew how important it was," she says. "I don't have medical insurance, so all I can do is heal myself."