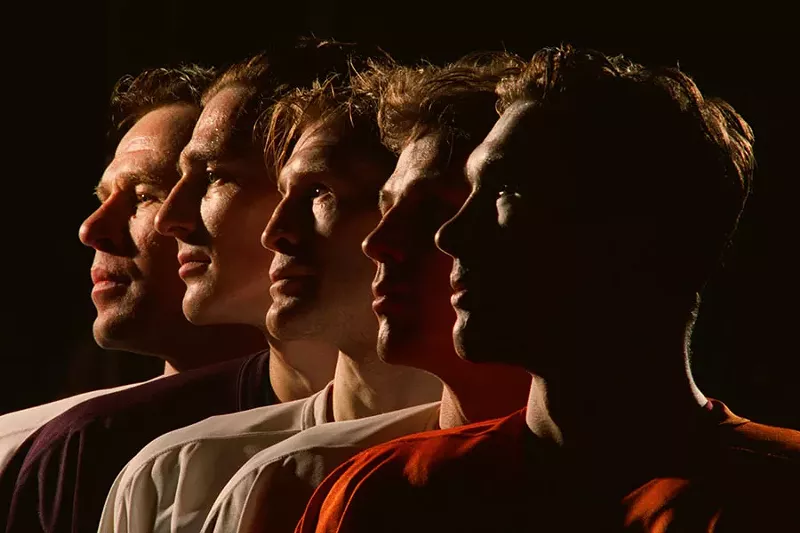 At first glance, the elaborate machinations required to get five men from Soviet Russia to the United States might read as the plot to the espionage-driven fiction of a Tom Clancy novel. From faking cancer, forging documents, offering up bribes, and the car accident that almost ended it all, the strategic ruse-laden mission took years to complete.
Detroit Red Wings fans likely know of the remarkable and courageous "Russian Five." However, it took director Joshua Riehl nearly six years to tell the harrowing behind-the-scenes journey of how Sergei Fedorov, Slava Fetisov, Vladimir Konstantinov, Slava Kozlov, and Igor Larionov escaped the clutches of the Iron Curtain to lead the Detroit Red Wings to back-to-back Stanley Cup victories — the first of which marked the franchise's first Cup win in 42 years.
The path to Red Wings victory was not smooth skating and appropriately, neither was the making of this tell-all film. Riehl, a Port Huron native, and Austin, Texas resident, explains why his documentary The Russian Five is no mere hockey movie.
Metro Times: How long had this documentary been an idea and when did you actually start putting it into action?
Joshua Riehl: It's been an idea for as long as I can remember. The timing was right. Fortunately for me, the NHL was on a lockout at that point so all of these executives and teams weren't doing anything. They were just sitting around and hoping that the lockout would be resolved and they could get back to work. This film took nearly six years to make. There were a lot of opportunities to quit. I'm one of those people that when I have a vision for something, I pursue it doggedly to the very end.
I had a meeting with Denise Ilitch where she very politely said, "This sounds fantastic and I'd love to support it but I don't know the first thing about filmmaking." But she had a really good question: "Why does a filmmaker from Texas want to make a film about the Detroit Red Wings?"
MT: Did that put the project into perspective?
Riehl: Yes! I realized that if I was going to find the money, I was going to have to move back to Detroit where the story took place. I made the tough decision to pack up all my stuff and put my life here on hold. I moved back to Detroit.
Fortunately, I met Jenny Feterovich and she connected with the idea. She and I hit it off and she was able to bring on Dan Milstein, my executive producer, and Dan took a chance on me. I thought that the hard part was over. Then comes the logistics of scheduling interviews, making sure you get the right content, and the trips to Moscow.
MT: Were you met with any resistance from the Russian Five? Or were they eager to share what they had gone through?
Riehl: I don't know if I would call it resistance. Obviously, these guys are not just hockey heroes here but they're icons in Russia. Initially, there was a cautious, "yes." When I first met Igor he said, "OK, this sounds good. But let's talk about this more." It wasn't until he saw a teaser trailer that he felt assured we'd do it justice.
MT: Why is this an important story to tell in 2018?
Riehl: We're living in such a polarized time right now. The idea that you can have this team where you've got players from the former Soviet Union, players from Sweden, from all over Canada, from America... it really isn't until that group of guys became a brotherhood that they had a shot to actually win the Stanley Cup.
When they do finally overcome these odds and win this trophy, this thing they've been working toward for so long and dreaming about, six days later there's an accident and the guy who was becoming the heart and soul of that team is in a coma for [weeks]. It's the perseverance that allowed Konstantinov to [recover] and still function today, and the perseverance to say, "We're going to rally around our fallen comrade and we're going to win it again for him."
If we want to accomplish difficult things — hard tasks, important things to us — we need to look beyond ethnicity, nationality, race, religion, whatever it is. It's only by everyone pulling in the same direction, or as Sergei Fedorov says in the movie, "Pointing our guns at the enemy in the same direction."
MT: Beyond the storytelling, is that the thesis of the film?
Riehl: You go back to the motto of the city from its inception — we hope for better things and we will rise from the ashes. That's what Mike Ilitch did with the team. That's what they had to do after they lost Konstantinov in '97. Those are the things I'm hoping people take away from it. There's a universal human truth to this story that I'm interested in. I didn't want to make a hockey film. I wanted to make a film about human beings who also play hockey.
The Russian Five will premiere at the Freep Film Festival on Wednesday, April 11 at the Fillmore, and will be screened at Emagine Theatre in Royal Oak at 8:30 p.m. on Thursday, April 12, and at the Detroit Film Theatre at 4 p.m. on Friday, April 13; more information is available at freepfilmfestival.com.
Get our top picks for the best events in Detroit every Thursday morning. Sign up for our events newsletter.