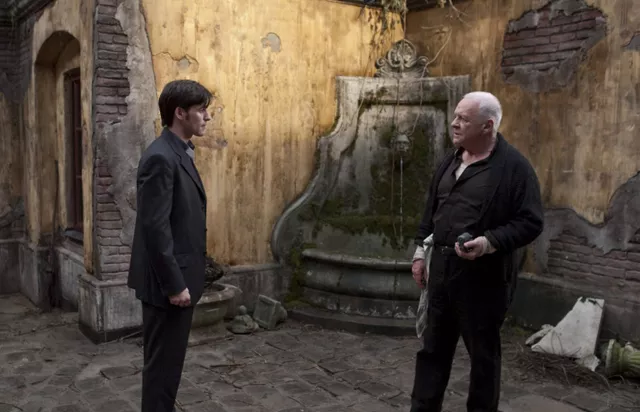 Satan isn't the kind of dude to be in a mellow mood, but, saddled with a PG-13 rating, the dark lord prevaricates in a low-key manner, avoiding the salty language and free-spewing vomit we expect from this sort. The closest this lugubrious chiller comes to real demonic histrionics is a woman coughing up nails, and a run-in with a red-eyed mule. Whoa, scary! (World of Warcraft players and fans of mediocre '60s sitcoms are well aware that man and possessed equine can live together in harmony, so the impact of this evil oat-chewer is decidedly blunted.)
In fact, much of the The Rite seems to be on mute, as director Mikael Hafstrom (1408) pussyfoots around the gates of hell, with a more "realistic" approach to exorcism. The film is adapted from Matt Baglio's book, which is allegedly "based on true events," though similarly preposterous claims have also been made about the Bible.
Light on gore, The Rite's a snore, consisting largely of ponderous conversations that seminary students might have over a big bowl of pea soup.
Conflicted Catholic boy Michael Novak (Colin O'Donoghue) has an off-on relationship with the church and with his beliefs in supernatural good and evil, though he was raised by someone really terrifying: Rutger Hauer!
Rather than hang around sewing up stiffs in the family's mortuary biz — and since he's not getting chicks anyway — Michael joins the priesthood, and hightails it for Rome. There he's assigned to train under a gruffly endearing old Welshman called Father Lucas (Anthony Hopkins). The two form a sort of frocked X-Files, with Michael playing doubting Scully, writing off the oddities they encounter as psychiatric problems or fakery. It doesn't help that Father Lucas answers his cell phone on the job, and when performing a ritual cleansing of a pregnant woman quips, "What did you expect? Spinning heads?" Well, yes, actually, I did. Hell, the stakes for Christopher Hitchens' least-favorite horror subgenre have been raised in recent years by far better creep-outs, such as The Last Exorcism, The Exorcism of Emily Rose — not to mention the immortal '73 classic that launched it all. Things briefly perk up once the devil gets inside Hopkins, and he scarfs the scenery like a bowl of chips and salsa, but it's just not enough. The Rite may spook lapsed Catholics and parochial school grads still in terror of getting their knuckles rapped with a ruler, but the rest of us will take our horror flicks with fava beans and a nice Chianti.