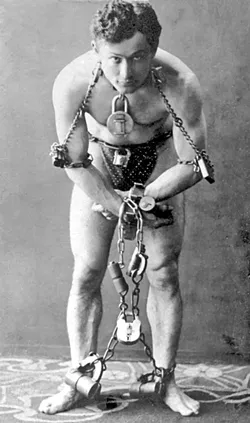 Harry Houdini died on Halloween in Detroit 92 years ago. The famous magician did not meet his untimely demise on stage while performing an escape act from his Chinese water torture machine, as many folks believe. Rather, he died at Grace Hospital in Detroit a week after collapsing on stage during his final performance on Oct. 24,
1926
at the Garrick Theatre.
Both buildings are now demolished, but the mythology of Houdini's death lives on. The magician was known not only for his death-defying stunts and stunning
illusions,
but also for debunking many of the day's "spiritualists," charlatans who claimed to be psychic mediums that could connect the living and the dead.
One folk tale claims that a group of pro-spiritualists poisoned Houdini
because
his inquiries into their work put their lucrative careers in jeopardy. Another says he sustained several blows to the abdomen from a Canadian college student who was hoping to test the
magicians
purported superhuman strength. Many believe those punches induced acute appendicitis, ultimately poisoning his body and costing him his life. Neither hypothesis has been proven to be true, but historians seem pretty confident that Houdini probably had appendicitis prior to those alleged punches.
Houdini's death certificate lists the cause of death as "diffuse peritonitis."