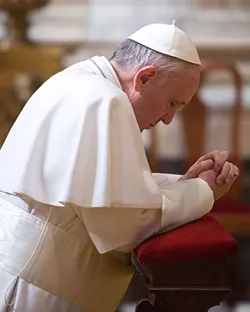 Adding to the laundry list of reasons why this is the dopest Pope ever: Pope Francis is now on Instagram.
Ok, we apologize for saying dopest Pope, but we had to, just once, just to see how it feels.
Pope Francis racked up 10,000 followers within an hour of signing (watch out, Kylie Jenner), and now has amassed 1.5 million, which isn't bad considering he's only posted six photos.
Wanna follow him? He is using the name @Franciscus, Latin for Francis. And while you're at it, go ahead and give us a follow too at @MetroTimes. You won't regret it.