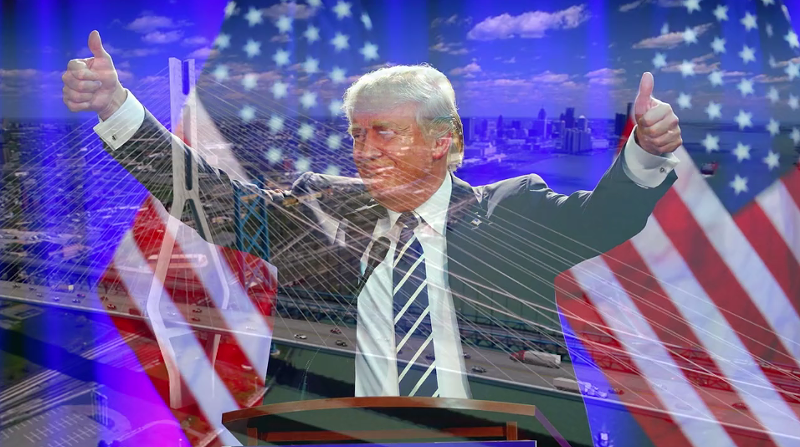 Now that the Morouns have successfully
handed Detroit's Michigan Central Station over to Ford
, the billionaire family can get back to doing what it usually does: fighting the government over all things bridge-related.
On Wednesday, they made as direct of an appeal as anyone could in trying to get President Donald Trump's attention — by airing a commercial on
Fox & Friends'
morning show, which the president is known to watch.
In recent months, the family — which owns and operates the Ambassador Bridge —
has been trying to get President Donald Trump to weigh in
on its ongoing battle to halt the Canadian-built Gordie Howe International Bridge, which they say will hurt their business.
The TV spot
seems tailor-made for Trump's attention: It's literally addressed to him, beginning with the words "Dear Mr. President." What follows are a slew of buzzwords known to light up Trump's easily-distracted brain: There's insinuations that the Canadian bridge will cost the U.S. jobs, various signifiers of patriotism, and criticisms for Trump's arch-nemesis, former President Barack Obama.
"Inexplicably, President Obama issued a presidential permit and granted a Buy American waiver for Canada," the narrator says, "so their Canadian-owned bridge didn't have to use American steel." "Who knows who would make the steel?" the narrator asks. The whole thing is set to a piano rendition of "America the Beautiful" and features photos of a saluting Trump.
Of course, in true Trump fashion, there are inaccuracies in the details. As
The Free Press
points out
, the bridge must use steel made in the U.S. or Canada, and will be jointly owned by Michigan and Canada.
The ad then directly calls on Trump to revoke Obama's 2013 permits allowing for the Canadian bridge. "Thank you sir," the ad ends. "Signed, America."
Trump, of course, is known to obsessively watch TV, especially Fox, and frequently parrots talking points gleaned from the network. (
Politico
has called the symbiotic relationship between the two
"the Trump-Fox feedback loop."
) Has there ever before been a TV commercial with a target audience of just one person?
You can watch the ad below.

Stay on top of Detroit news and views. Sign up for our weekly issue newsletter delivered each Wednesday.