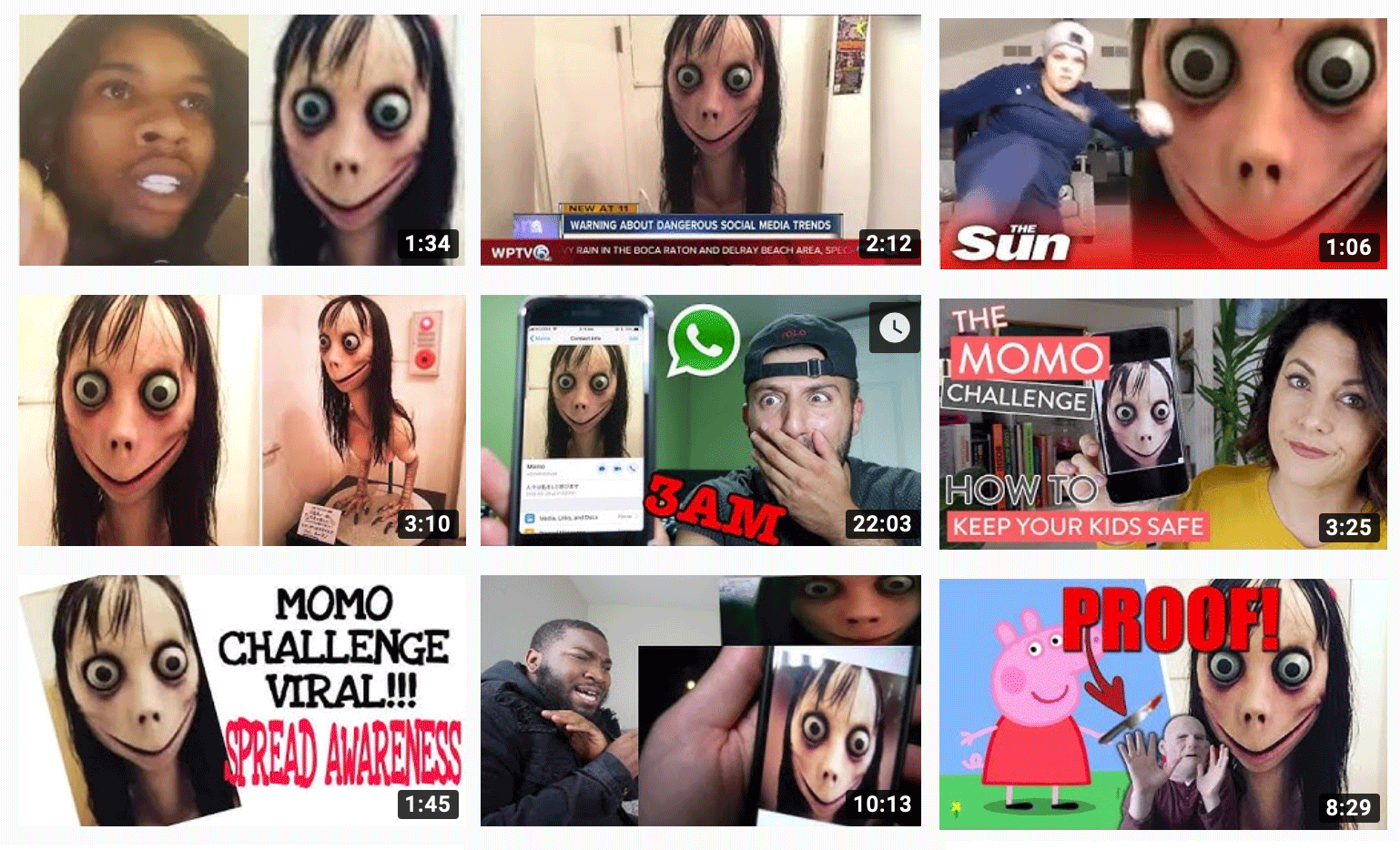 It sounds like the plot to a horror movie: The whole damn world is freaking out about an alleged "Momo challenge," in which a ghoulish avatar is said to appear on children's YouTube videos, instructing young, susceptible viewers to hurt themselves or others — or even commit suicide.
On Wednesday, the hysteria reached metro Detroit, with
WDIV
,
WXYZ
, and
Fox 2
all posting stories warning parents to monitor their children's computer use. Also on Wednesday, none other than
Kim Kardashian
took to social media to beg YouTube to do something about the disturbing videos.
In reality, "Momo" appears to be nothing but a social media hoax, or a moral panic spread by overzealous adults. The "Momo" image — which looks like a cross between the woman from the haunted video in
The Ring
and a creepy bird — is actually a sculpture made by a Japanese artist in 2016. The hoax as we know it first started making the rounds in the Spanish-speaking world last year, and got a signal boost in the English-speaking world when a YouTube user named
ReignBot
made a video debunking the phenomenon. Outlets like
the BBC
,
The Guardian
, and
Snopes
have all reported that despite the urban legend's widespread reach, "Momo" has not been linked to any reported instances of harm or suicide.
Like any good urban legend, though, the "Momo" hoax is able to spread like wildfire because it plays off of other real, preexisting fears. In this case, it's the fear of those slightly creepy, uncanny valley of YouTube videos aimed at toddlers and young children.
Tech blogger James Bridle
took a closer look at kids YouTube videos
in a well-researched Medium post last year. Especially if you don't have kids and have never heard of this stuff, Bridle's article is worth a read. The stuff he describes is way scarier than "Momo."
Unlike traditional kid-oriented programming like
Sesame Street
or Disney films, there's no effort to teach the young viewers anything here — many of the videos appear to be a cynical effort to rack up advertising revenue by getting kids addicted to watching them. There's "Surprise Egg" unwrappings (literally just watching someone open candy eggs with a prize inside — over and over again). There's bootleg Disney characters and violent Peppa Pig parodies. Even more disturbing are the creepy algorithm-produced lullabies. Thanks to YouTube's algorithms that automatically seek out and autoplay similar videos, once you give your toddler an iPad as a sort of pacifier, you could actually be sending them down a strange rabbit hole.
But the forces at play here are not just limited to kids videos. We already know that shadowy entities are using social media for dubious purposes. YouTube's algorithms have also been linked to
"radicalizing"
adults by showing them content that is increasingly more extreme — like how watching Donald Trump rallies can quickly turn into watching videos about white supremacist rants and other conspiracy theories. Distrust in social media platforms like Facebook is high following scandals like the Cambridge Analytica breach, in which it was it was revealed that a political consulting firm had harvested personal data from millions of people's Facebook profiles without their consent for political purposes.
"What concerns me is that this is just one aspect of a kind of infrastructural violence being done to all of us, all of the time," Bridle writes. "[And] we're still struggling to find a way to even talk about it, to describe its mechanisms and its actions and its effects."
Now
that's
scary.
Stay on top of Detroit news and views. Sign up for our weekly issue newsletter delivered each Wednesday.