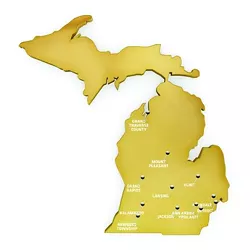 The Michigan Medical Marihuana Act, passed in 2008, made pot legal for patients with certain medical conditions. But the MMMA is not the only story in the state when it comes to legislating the cannabis plant. There are decriminalization efforts working their way around city by city, and some expect a statewide effort in 2016. Let's take a little tour around the Mitten for an update on some of the various laws.
Lansing
This November, voters there will cast ballots on a petition initiative calling for decriminalization of 1 ounce or less of marijuana for adults and — a new twist in the standard decriminalization — the right to transfer it. Lansing's Mayor Virg Bernero has voiced his support for the initiative.
(However, last week Michigan Attorney General Bill Schuette notified the governor's office that the proposed Lansing city charter amendment violates state law. Ballots are already printed and it remains unclear how this will play out.)
Flint
Flint's petition initiative provides decriminalization for those ages 19 and older with the right to transfer.
Ferndale
Decriminalization of 1 ounce or less for adults is on the ballot this November — including transfers. If the initiative passes, it will be the first community in Oakland County, where law enforcement has taken an aggressive anti-marijuana stance since the MMMA was passed.
Ferndale is where County Prosecutor Jessica Cooper and Sheriff Mike Bouchard made it clear they weren't going to tolerate dispensaries by busting Clinical Relief there in August 2010, along with Everybody's Café in Waterford. They also raided the homes of Clinical Relief co-owner Nick Agro and his parents Sal and Barb Agro, both registered medical marijuana patients. Barb, 70, worked at Clinical Relief as a receptionist; Sal, 67, died from a heart attack a week after the raids.
Detroit
In 2012, Detroiters voted on what has become the standard decriminalization package: Adults, 21 and older, may possess and use as much as 1 ounce of marijuana on private property. Where do they get it? Well, that isn't considered by the provision, but folks seem to be getting it from somewhere.
Ann Arbor
The City of Trees has the richest history of pot activism in the state. In 1967, The Michigan Daily, U-M's student newspaper, made worldwide news when it called for legalization. More significant, in 1971, two and a half years after poet and political activist John Sinclair was sentenced to 10 years for giving two joints to an undercover narcotics officer, it was where 15,000 people attended a Free John Now Rally at Crisler Arena.
In September 1972, the Ann Arbor City Council passed a law reducing the penalty for possession of less than 2 ounces of marijuana to a $5 civil infraction, although they repealed it in June 1973. Then, in April 1974, voters took things into their own hands, amending the city charter to restore the $5 civil infraction. The charter amendment is still in place, although the fine is now $50.
Ypsilanti
In 2012, voters said yes to a Lowest Law Enforcement Priority ordinance regarding marijuana possession offenses.
Jackson
Voters in Jackson will vote on decriminalization in November 2013, with the provision for transfers.
Kalamazoo
In 2012, city commissioners voted to decriminalize possession of up to 1 ounce of marijuana for those 21 and older. The penalty is a civil infraction, with a $100 fine for first offenders.
Newberg Township
Rainbow Farm was a marijuana-friendly campground in Newberg Township run by Tom Crosslin and Rollie Rohm. From 1996 to 2002, it was the center for marijuana activists in Michigan. The relationship between the farm and law enforcement was not good, and in May 2001 state police found more than 200 marijuana plants growing on the property. Crosslin faced firearm charges in addition to marijuana offenses. The two failed to show up for an August hearing.
On Labor Day weekend 2001, while police maintained surveillance, the two men burned 10 buildings on the farm, shot at a news helicopter, a police surveillance plane and in the general direction of police in the woods; on Sept. 3, 2001, they were shot by police.
There was little news about the deaths; a week later, the attack on the World Trade Center on Sept. 11 dominated the news for months. However, many Michigan observers believe the Rainbow Farm events galvanized marijuana activists in the state to fight to change the marijuana laws.
Grand Rapids
Last year, voters approved a citizen initiative to decriminalize possession of small amounts, with a $25 fine for a first offense.
Mount Pleasant
This is where the Compassionate Apothecary was located and where the so-called McQueen case began, when the dispensary was cited as a public nuisance in 2010. The case eventually made it to the state Supreme Court, which made the end-of-the-road ruling for dispensaries that patient-to-patient sales are not allowed under the MMMA. This crushed any hope that dispensaries would be allowed under current law. HB4271, now pending in the state legislature, would allow for marijuana provisioning centers in Michigan.
Grand Traverse County
The Koon case originated here when Rodney Koon was stopped for speeding and voluntarily admitted that he had been smoking marijuana. Eventually the state Supreme Court ruled that the MMMA supersedes the Michigan Vehicle Code and that the presence of THC in a driver's blood does not automatically mean that they are driving while impaired.