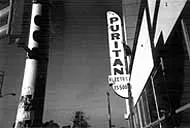 A visitor's eyes will often see-lect what a native passes over in familiarity and neglect. Such is the case in
"Signs of Detroit
,
"
Sheila Cohen's fine show (at the Old Coffee Shoppe) of color photographs of street signs in Detroit and Dearborn. Cohen, originally a London, Englander, takes a mostly minimalist approach to her subjects, letting the deep blue skies of southeast Michigan set up a resonant contrast with still-brilliant though weathered reds, blacks, yellows and whites of commercial sign survivors from the '50s, '60s and beyond. The best of these works — "Dearborn Car Wash," "Miller's Bar," "Donut Palace Drive Thru" and "Puritan Electric 15500" (pictured) — have a stark concentration, making us realize that the beauty they reveal has "been here all along" (a classic effect of great photographs). Cohen's "
Star Motel
," which took Honorable Mention in the
Metro Times 1999 Photo Awards
, is here too, with its lonely street poetry, its out-of-time aura. The Old Coffee Shoppe's hours are 4 p.m. to midnight. Stop by for a cup and a look.