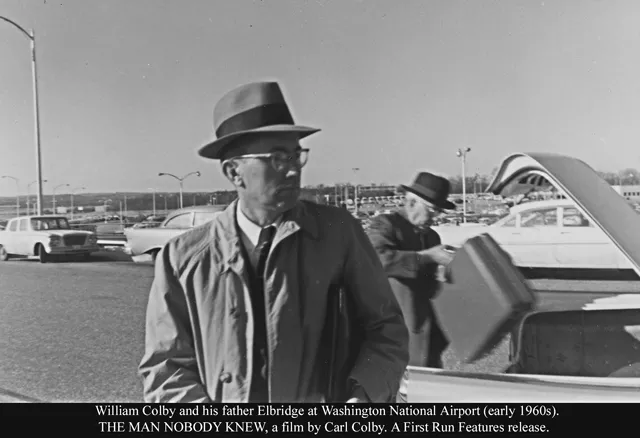 The Man Nobody Knew: In Search of My Father, CIA Spymaster William Colby
B
This compelling investigation into the very private world of former CIA director William Colby is obtuse and information-dense, and the toothsome title isn't the only barrier to entry; the subject himself was an impenetrable fortress of a man, someone who deliberately and mindfully spent his life in the shadows. Aside from those who personally knew him, the mild and secretive Colby is a notable figure mostly to people of a certain age and those whose memories are fully intact. 
It belongs to the subgenre of documentaries about adult children attempting to understand their famous parents, a process which is often sketchy but has yielded some gems like 2003's My Architect about Louis Kahn. The results here are not as emotionally fulfilling, largely because the elder Colby's very life so often counted on playing things close to the vest. Colby's globe-hopping career was impressive; beginning in France with the OSS during WWII, running dangerous commando raids deep behind enemy lines. After the war he was posted to Italy, as that nation painfully rebuilt, and later to an obscure, war-ravaged Southeast Asian nation called Vietnam. Colby's oft-neglected wife Barbara says her husband always "did what needed to be done," which in Vietnam included controversial "counter insurgency" measures, which included a program of targeted assassination. Eventually Colby would rise to become director of the CIA, just in time for the Watergate scandal to finally erode the public's trust in a government he had spent three decades protecting. 
His most defining act in power was to embrace transparency, to step into the blinding glare of the spotlight and expose the agency's dirty laundry. He spent months testifying to Congress, exposing many of the company's "Family Jewels," in an elaborate effort to prove that the clandestine service was indeed accountable to the Constitution. It was an uncomfortable act for such a secretive man, and his son, director Carl Colby, believed he never fully recovered from the strain. William tried to start over, with a new family, but the old ghosts loomed over him. He died, rather mysteriously, yet fittingly, alone in his fishing boat. 
Recent films about other conflicted figures of that confusing time in our nation's soul have struck different tones: from confessional with Robert McNamara in the The Fog of War to, in the case of Pentagon Papers leaker Daniel Ellsberg, celebratory. Here the result is fascination, yet sadder and less rewarding, a son still left wondering if the enigma of his father was more compelling than what might've been all along. —Corey Hall
Opens Friday, Dec. 16, at the Landmark Maple Art Theatre, 4135 W. Maple Rd., Bloomfield Hills; 248-263-2111.