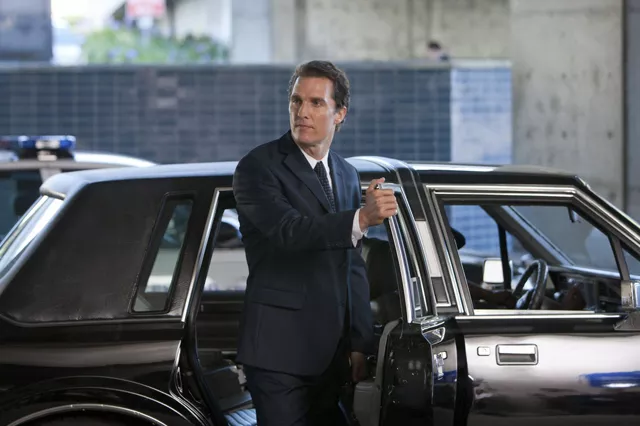 The Lincoln Lawyer
GRADE: B+
Matthew McConaughey rebounds from career oblivion after a half-decade of hanging ten over the abyss of dismal rom-com beach-bum roles that scarcely required him to don a shirt.
While his turn here as a Crisco-slick, smooth-talking, ethically shaky attorney isn't a huge stretch, it does come in a taut, well-made courtroom thriller with more smarts than anything on the star's recent résumé.
As Mickey Haller, he chases ambulances and skirts around L.A in the back of his chauffeured old-school Town Car, unafraid to bend the rules, but always quick to get the money up front before offering his impeccable services. He employs a network of informants, investigators and flunkies to grease the gears of justice, and isn't too picky about clients, if he sees an angle (his clients include a biker gang, because you never know when you'll need a favor from a crew of baseball bat-wielding behemoths).
He's not all greaseball though, his driver (Laurence Mason) likes him, as does his daughter (Mackenzie Aladjem) and ex-wife (the always-great Marisa Tomei), who won't live with him but is game for the occasional nude sleepover. A much less cozy relationship exists with his latest client, Louis Roulet (Ryan Phillipe), a callow playboy with evident anger issues, accused of assaulting a stripper. Roulet is clearly covering up something much worse, and through intimidation and deep family pockets, he drags Haller into a dangerous corner, and the fun is watching Mickey slip the traps and outmaneuver the judge, the prosecution and his own client.
McConaughey plays to his strengths, showing abundant charm, cleverness and toughness, and he's abetted by an ace supporting cast, including, William H. Macy, Josh Lucas, John Leguizamo and Frances Fisher. Each helps deliver cracking entertainment, which is more enjoyable than it is deep. Director Brad Furman layers on grit and a mild '70s throwback vibe, down to the soul music on the opening credits, but this is less Michael Clayton than Jim Rockford.
Indeed, The Lincoln Lawyer sometimes feels like a really solid TV pilot more than a prestige feature — which may be intentional, it was adapted by John Romano from a pulp paperback by Michael Connelly — and if all goes well, court will be back in session again soon.