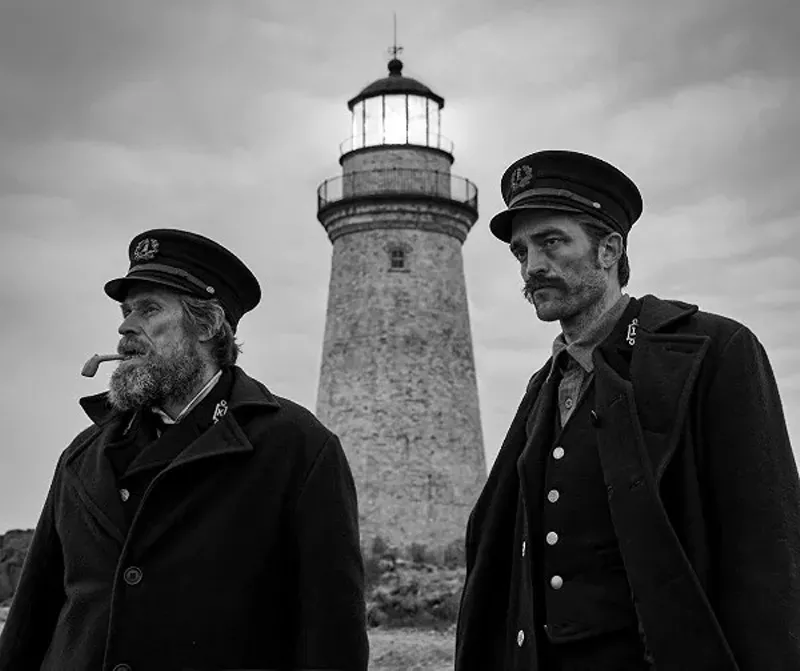 "What brung ye to this rock?" Willem Dafoe's Thomas Wake calls out early in The Lighthouse to Robert Pattinson's Ephraim Winslow — an odd question to ask of one's hire. The answer, if you're paying 'em right, should be easy enough. They came for a job. But as Wake's piratic lighthouse-keeper rightly perceives and makes good use of, his younger temporary helper has come for his own peculiar reasons.

The pair is responsible for a forlorn black kernel of an island that is home to little but a textbook example of a mysterious lighthouse and a small cabin, and the film is shot in an unusual 1.19:1 aspect ratio, which confines their actions to a petite frame within a larger screen. Director Robert Eggers (following breakout The Witch and working again with cinematographer Jarin Blaschke) works with pretty astonishing precision, creating richly drawn latticeworks of light and shadow in too-rarely-utilized 35mm black and white. The effect, as with the film's earthy dialogue, narrows the viewer's attention toward a focused visual space which rarely abandons its performers — making audiences the implicit recipients of the actors' considerable toil. For The Lighthouse is throughout a dirty, greasy movie, full of battering winds, faulty plumbing, rough coals, and emotional hardship — a kind of miniature of early American privation, industry, dream, and myth. Grubby though it is, The Lighthouse is prone to romance, folklore, and heady suggestions of the supernatural, freely incorporating sea gods, mermaids, and vengeful spirits as part of its subjective pallet. In its waters all things turn stewed and intermingled; its sacred gestures become encrusted in the barnacles of the profane.

Wake and Winslow (the film's attention to aural beauty is evidenced in their names) spend most of the movie waiting, beleaguered by storms, for a ship that may never arrive, and plunging into profound depths of desperate isolation, possible mania, and ardent woe over the course of the movie. Throughout, the two compete viciously against one another, drawing on differences in age, temperament, motive, and belief. Pattinson, whose star-making charisma, youth, and beauty cannot be concealed beneath raincoats or drooping mustaches, stands in cartoonish opposition to Dafoe (Winslow justly calls him a "parody"), a hideous, phlegmatic sailor who seems to be rotting with age from the inside out. Through them both, in their increasingly waterlogged and storm-battered desperation, runs a tormented vein that's born of loneliness and need. Left with nothing but each other, their tensions give way at times to brief shows of almost filial warmth and sentiment, displays whose expression triggers a subsequent, repulsed response of bitter resentment and loathing. These conflicts bear out through posture, performance, and bitter words before they erupt — as feels inevitable — into threats, curses, and outright violence.

As Winslow's boss, Wake barks orders at him constantly, flexing his power even via toasts while, like so many outright bullies, offering intermittent rations of affirmation. Weathering a great many scenes soaked and freezing, The Lighthouse's actors must have felt something like abuse themselves while shooting. Their shared discipline in persistence and performance creating an intensity felt via the film's images, which grant emotional intimacy through measured angles, as well as in its shadows, which frequently deprive its actors of much light. When Blaschke's camera moves outside the film's carefully carpentered interiors, its landscapes are stark and shot from high and low angles — interludes of meteorological calm marked by skies of placid, milky whites. In many ways, The Lighthouse scans as an inversion of Midsommar, the sprawling, sun-soaked, and horror-adjacent work produced by the same distributor, a series of communal feasts butting up against The Lighthouse's more private air of famine, and likely to be experienced by a similar audience. As in Midsommar, from start to finish, its story feels richer for being clearly subjective, its settings providing a means of mapping out interior geographies.

The Lighthouse
feels worthwhile not for being wholly original or the most personally expressive story, but because it renders everything it shows — every piece of itself as a work — with such holistic care and attention. For this reason, it's best pleasures lie in its concrete details and evocative ambiguities more than in its themes or feeling. Throughout, we're driven to question how much is being shown (or illuminated) of its characters, divided as they are by withheld disclosures, differing demeanors, and by Dafoe's cardinal rule, which forbids Pattinson from gazing at the lighthouse's actual beacon up-close, a light which Wake describes himself as "wedded to." As the film's central, predictable, and finely gothic metaphor, the beacon's revelations are long withheld. As a piece,
The Lighthouse
drives steadily at illuminating its central characters with admirable control, possessing both the boldness to dig into them and the reserve to pace itself in doing so.
If there's anything lacking, it might be that its fastidiousness is a little too perfect. Though
The Lighthouse
is remarkably realized for the time it lasts, its director's deeper feelings seem not to be expressed within it, hidden safely behind the bulwark of its form. For all that one can say for it, it's the product of a descriptive rather than expressive art.

Stay on top of Detroit news and views. Sign up for our weekly issue newsletter delivered each Wednesday.