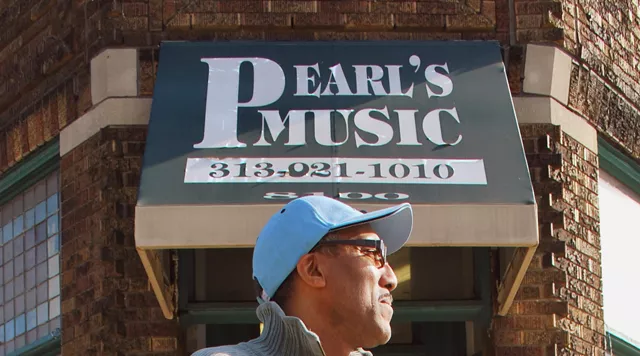 He packs away the CDs and the old cassettes, leaving the posters on the wall for last.
"I guess maybe it hasn't hit me yet," says 52-year-old Walter Esaw, as he boxes the stock of his little record store, Pearl's Music, on Kercheval near Van Dyke.
But the phone keeps ringing, bringing reminders. "Yes, next week is our last day," he tells each caller who phones him after hearing the news somewhere. "We're gonna be OK," he adds. All the calls are going the same way.
After almost two decades at this spot, and 80 years total in Detroit, the store can't make it anymore.
"It comes down to economics," Esaw says. "The sales are just down. We never were just for profits, but we were always saying that as long as it paid the bills then we would be here."
Business tanked about a year ago, he says. Though the store survived the rise of digital music and the easy-to-find bootlegs in the neighborhood, it couldn't outlast a terrible economy.
For years, Pearl's was a classic corner store on the block, small and old-fashioned, owned by someone in the neighborhood. It specialized in an eclectic collection of jazz, blues, soul and classic R&B — "catalog" music, as it's called — on vinyl, cassette and CD. The store drew discerning customers and collectors to its narrow aisles, people seeking B-sides and old album tracks, and those who didn't want to screw around trying to download obscure old songs using their computer.
"We had a clientele that wanted physical music," Esaw says. "We promoted this to select groups, and they were just loyal customers."
The mail lady walks in the door and brings the day's letters to the counter. "He's not closing," she declares in a defiant tone after overhearing Esaw talk about the store's demise. "He's not going nowhere."
Esaw laughs. "They're all in denial," he says. "I've had customers that came in that I hadn't seen in years saying, 'Why are you guys closing?' I'm like, 'I haven't seen you in years. That's why we're closing.'"

Esaw and a friend bought the old record shop in 1992, after its longtime owner died and his widow, after whom the store was named, wanted to unload it. "Neither one of us knew anything about the music business," he says. "Of course, we grew up real quick."
He moved the business from its longtime Mount Elliot and Gratiot location to a little brick building just outside Indian Village, and worked to make it a comfortable neighborhood place to hang out, hear music, find something rare.
"The first couple years was kind of rough," he says. "We were just looking at making $100 a week just to pay the rent." Every few months they wondered aloud whether to close, but stuck it out. They began attending record conventions, hosting in-store signings, holding promotions for new releases. Eventually Esaw took over on his own.
Pearl's developed a reputation as a source of hard-to-find music and a go-to stop for touring musicians. Beyoncé was once here, with Destiny's Child, back in their early days. Alliyah was too, and Toni Braxton, and Usher, and Charlie Wilson, and dozens of others famous names.
"I had Trey Songz literally on the floor here, playing jacks with some of the kids," Esaw says. "He sung a cappella, like three songs from on his album, right here on the floor."
The walls are covered with posters and pictures, all autographed, because to get on the wall, whoever's in a picture had to have been in the store at some time.
After the store began doing well, Esaw opened a club in its small basement, named it Pearl's Underground, and booked local musicians to play Saturday night gigs.
A jazz set might be followed by blues, or hip hop. Cover was $20, which bought you a front row seat to a night of great music and all the liquor you could drink, served from a miniature bar at the back.
It was a tiny club, with room for barely 50 people. There was a scattering of small tables and chairs in front of a short plank of wood serving as the stage. Entrance was invitation only, and you had to pass through three doors just to get in, giving it an air of exclusivity.
It's so legendary on this side of town that after word spread about the basement closing too, customers started offering to hold fundraisers, to at least keep the club open.
"A lot of my customers are saying, 'What are we gonna do with y'all gone?'" he says. "It's been a real outpouring of concern and love."
It's just that it all comes too late.

A little store in the inner city often has a strong relationship with the neighborhood it's in, especially in an area where most of the businesses have closed. Those living in the blocks around it will make a point of shopping there to keep that one alive. A smart store owner knows this and returns the favor.
That's why Esaw would organize customer appreciation block parties with bands, food and games on blocked-off streets. It's why he's taken folks from the neighborhood on bus trips to Cedar Point, with new CDs playing on the stereo the whole way down there. And it's the reason he handed out $1,000 scholarships every year to promising high school students in the city. He'd have them write an essay on a topic like what they'd do if they were president. "We'd sit up at night going through, reading them all," Esaw says.
"It was never about having a record store. We knew that through having a record store, and the music, that we could get kids to come in and talk to us and maybe we could be able to help them do something. We always wanted to do something where we could give something back."
Gestures like these made the neighbors fiercely loyal to Pearl's. Even among the area's thugs, word was to leave this store alone, which sat vulnerable with no bulletproof glass, no anti-theft door alarms, no iron bars on its big windows.
"People in the neighborhood, guys in the neighborhood, the ones that kind of run the neighborhood, they tell everybody, 'Don't mess with Pearl's,' and that all came from a respect thing for all that we did. You never see people come in here with a smoke, you never see someone come in with a drink."
Once, the store got robbed by an armed gunman. When the neighbors heard what happened, they told Esaw they'd handle it.
"Just to tell you about the neighborhood, two days after we got robbed — they'd taken some cassettes and stuff — they put the money in a cassette with a note saying, 'Sorry we robbed you,' and put it back in the mail chute. I called the police and they said they'd never seen nothing like that before."
Esaw is a full-time accountant, so this job has been a weekend labor of love that started costing too much time and bringing too little money.
"It got to the point I had to reduce my hours, because I was paying someone $80 a day and I was making $60, so the math don't add up. And if the math don't add up, you got to make a decision."
As he presides over the last days of an 18-year dream, music plays from a speaker set on a milk crate outside the door. A sign in the window announces reduced store hours, where before it was a sign warning that the end was near. And the phone keeps ringing, bringing calls from more customers who had to hear it themselves from the owner himself, who has to relay the news, over and over, one customer at a time.
"Music is a luxury," Esaw says, standing behind the store counter, looking through the window at the quiet street outside. "You have to eat, but you don't have to hear some music. Detroit and the state of Michigan are just going through hard times. They just can't afford music anymore."