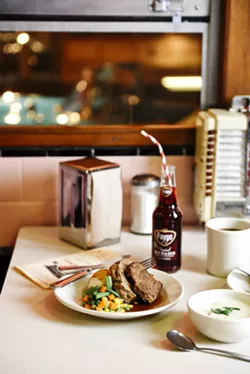 If anyone can make historically accurate menu items sound exciting, it's Lee Ward. The former Churchill Downs chef has been working as the director of the Henry Ford's food service and catering since last July and most of his time has been spent improving the visitor experience via food.
"We want visitors to taste and smell the stories we are telling," Ward says. "We're extending and enhancing what you're already seeing."
Prior to Ward joining the Henry Ford, the food did serve up some historical context, but the accuracy was a little off, according to the culinary director, and some things just didn't make sense. For instance, food demonstrations took place at Daggett Farmhouse and Firestone Farms, but visitors were not allowed to sample the food.
But that's all changed. Ward's spent the last 10 months working with museum curators and experts to heighten the various dining experiences available inside the museum and Greenfield Village. The result is an authentic experience you can taste.
Lamy's Diner, a 1946 diner car that was originally owned and operated by Clovis Lamy, was an area of intense focus for Ward and the Henry Ford team. He worked with the museum's curators along with diner expert Dick Gutman to overhaul the diner's interior as well as the menu.
Before the overhaul Lamy's was more of a soda fountain with what Ward calls a "
Happy Days
feel." Now, the diner better reflects what a New England diner car in 1946 would look, feel, and sound like.
That means the booths might be a little uncomfortable for "modern day people." They're lightly padded and unforgiving, but real people living in the 1940s sat in them. With the help of the curator of decorative arts, all food is served on period appropriate china and glassware. The menu features Clovis Lamy's original meatloaf recipe, a New England style milkshake called a frappe (pronounced "frap"), house-made donuts, and specially roasted coffee. All soda is served in small glass bottles, there's no soda fountain here.
In the village, Ward says changes were made at Mrs. Fisher's Southern Cooking, where recipes from the earliest known African American cookbook are used to make hand-battered cracker crusted fried chicken, roasted pork sandwiches, shrimp salad, collard greens, red beans and rice, and other Southern staples.
"Everything we're serving is out of Abby Fisher's cookbook or something she would have cooked or known how to cook," Ward says. "They are regionally and time appropriate recipes."
Eagle Tavern got the fewest changes, but Ward says he's developed a relationship to secure local produce.
"We're going to be preparing and serving the food like they would have in 1850," he says. That menu will include some savory mac and cheese, which Ward reports was a favorite of Thomas Jefferson who is largely credited for bringing the dish to America.
Other exciting developments include the use of the Owl Night Lunch wagon, a horse drawn wagon where Henry Ford himself dined at while working the night shift. The wagon was renovated and will begin to serve hot dogs and coffee near the glass gallery around Memorial Day.