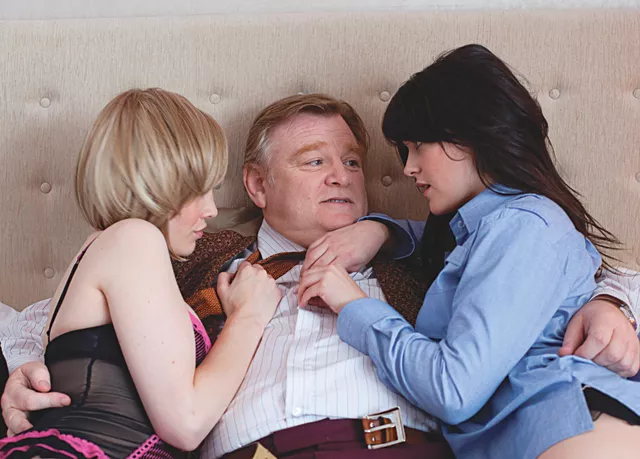 The Guard
Written and directed by John Michael McDonagh. Starring Brendan Gleeson, Don Cheadle, Liam Cunningham, Mark Strong and Katarina Cas. Running time: 96 minutes. Not rated.
B+
Like bacon, Brendan Gleeson makes everything taste better. Which isn't to say first-timer John Michael McDonagh's The Guard doesn't have plenty going for it. Rudely funny, confidently directed, and spiced with Irish melancholia, his black comedy effectively straddles the line between serious and subversive. But what might have otherwise been a modestly impish skewering of black-white buddy cop movies gets elevated by a clever sense of wordplay and Gleeson's uncanny ability to inhabit and deepen every role he takes on.
In Gaelic-speaking Connemara, police sergeant Gerry Boyle (Gleeson) is cynical and casually immoral, not above drinking while on duty, hiring hookers (who dress like mini-skirted cops), or lifting drugs off the bodies of car accident victims. He voices seemingly clueless racist remarks, claims to be a former Olympic swimmer, and is a helluva lot smarter than anyone realizes. Well into middle age, you get the feeling that Boyle just wants to check out and be left alone — if only he could do away with his nagging sense of duty and justice.
All of which, of course, will be put to the test. Not only is Boyle caring for his cancer-stricken mum, there's been a mysterious murder in town, he has to break in a new cop, and FBI agent Wendell Everett (Don Cheadle) has shown up, searching for a quartet of drug smugglers. As you might expect, all of these threads get twisted up in a shrewdly plotted tale that involves corrupt cops, violent betrayals, a killer who insists he's a sociopath not a psychopath, a cowboy hat-wearing IRA member, and philosophizing gangsters. It's arch and self-conscious and damn us if Gleeson and company don't make the thing work.
Part of it is the movie's sense of exhausted moral pessimism. McDonagh's violence and snarky nihilism never reach the heights of, say, his brother Martin's In Bruges, but still manages to delight in a similarly wicked sense of the profane. The Guard plays like a witty mash-up of Waking Ned Divine and Bad Lieutenant and, in its quieter moments, recalls the work of director Bill Forsythe (Local Hero, Comfort and Joy).
If you look closely, it's obvious that sly affectations are basically all that's holding together a film filled with caricatures and contrivances. Cheadle, always a pro, mostly serves as the uptight foil for Gleeson's irreverence, while Mark Strong pops in as an amusingly jaded drug trafficker. Neither could be considered well-developed characters, but they provide McDonagh with an opportunity to riff on cop movie conventions and further layer his script with sarcastic dialogue, offbeat personalities and eccentric provincialism. Watching the locals express their disappointment when Cheadle's FBI agent explains that he's not part of the Behavioral Sciences Unit, or listening to Strong's wonderfully stinging response to a bribed police detective's query, "Is it all there?" makes The Guard well worth the price of admission.
And then, of course, there's Gleeson, who fills Gerry Boyle with so much nuance, humanity and charm that it grounds McDonagh's black-hearted cheekiness, turning a frivolous and smart-aleck crime comedy into a surprisingly fulfilling black comedy.
Opens Friday, Aug. 19, at the Landmark Maple, 4135 W. Maple Rd., Bloomfield Hills; 248-263-2111.