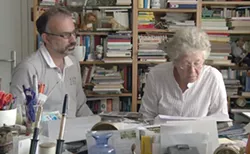 The Flat | B
The late Gerda Tuchler's Tel-Aviv apartment is laden with a long lifetime of knick-knacks and ephemera, all the ordinary tea cups, porcelain figurines and glassware that are the trademark of elderly ladies everywhere. One closet contains a vast assortment of fancy opera gloves. Parts of her large surviving clan shuffle through to sort out the housecoats and end tables, and giggle at musty artifacts like her intact fox stoles, complete with shriveled little paws. Most of the family is too far away or to busy living to deal with the clutter, and only grandson Arnon Goldfinger has the interest and fortitude to sift through the mountains of books, photo albums and letters left behind.
Among those artifacts, is a true curiosity; a newspaper article depicting high-ranking Nazi officer Leopold Van Mildenstien's pre-war propaganda tour of Palestine, accompanied by his wife and by the noted Zionists Kurt and Gerda Tuchler. Weirdly, the trip and accompanying media coverage was intended to encourage Jews to return to the Holy Land, advice the Tuchlers wisely took themselves, becoming early immigrants to the future Israel. What's even more shocking is evidence that the couples not only stayed in touch, but also maintained a close friendship long after the war, a fact that eluded daughter Hannah, Arnon's mother. In fact much of her parents past was a total mystery to the blunt and forward-looking Hannah, who was disinclined to probe deeper until pushed by her son. As the documentarian and his mother travel to Germany to interview surviving family on both sides, revelations continue to mount, some deeply tragic, some strange, but all expanding the mystery.
The Flat is a film about secrets and unresolved questions, some of which must extend to the filmmaker himself. Surely some of this has been re-created or pre-arranged. Who would just randomly bring a camera crew to the clean up of their grandparent's home?
As fascinating as the subject matter is, the look of the film is oppressively drab, while Arnon himself remains a strangely dispassionate narrator, his journey more intellectual than emotional. While Goldfinger does not fully connect us with his family's plight, his film does open up the fascinating prospect that discovering our own unexplored histories may begin with a peek into that dusty attic we've been ignoring.