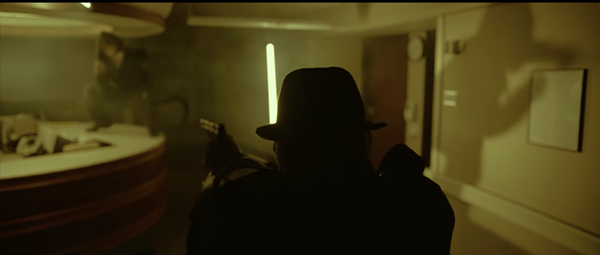 Fears, jeers, or cheers can't stop Detroit's most divisive devil from getting his 15-minutes of fame on the big screen.
The trailer for
Devil's Night: Dawn of the Nain Rouge
was unveiled in India on Monday, Dec. 4 by the film's actor and Bollywood elite, Napoleon Duraisamy. The Michigan-made thriller directed by Sam Logan Khaleghi follows a military veteran (played by Jesi Jensen) who returns home and joins local law enforcement to tackle a string of cases involving the urban myth and notorious crimson criminal the
Nain Rouge
.
The film, which features Lake Orion as its "small town" backdrop and showcases Detroit's Packard Plant, has also cast some local faces. WJBK's news anchor Amy Adams plays the mayor of Lake Orion, D12's Swifty McVay and Eminem's brother (we didn't know he had a brother either) Nathan Kane Mathers also star in the crime-drama.

Devil's Night: Dawn of the Nain Rouge
is slated for a 2019 release.