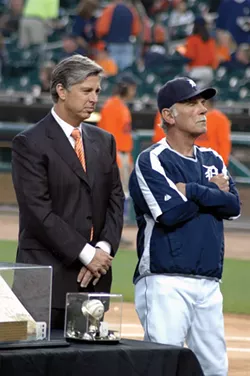 When current Tigers General Manager Dave Dombrowksi was hired in 2001, he had a mountain the size of Everest to climb in making the Tigers relevant again. The team's last playoff appearance had been in 1987, and its last World Championship was the famous '84 series.
History lesson aside, Dombrowski wasn't always the deal-cutting manipulator that we know him for today. His first two seasons were atrocious — the second being the '03 season in which a Tigers' victory was about as common as a Lions' playoff appearance. That wasn't his team, though. It was a team of misfits from the previous management.
After a few years of rebuilding, some big free-agency signings (catcher Pudge Rodriguez, outfielder Magglio Ordonez, to name a few) and successful fruit from the farm system got the Tigers all the way to the World Series in 2006. In just four short years at the helm, Dombrowski took the Tigers from being the laughingstock of the league to MLB near-champs.
Since then, there's been franchise success — just not a World Series title for the Tigers. And along the way, Dombrowksi has made so many deals to move this team forward, it's easy to forget them. It's also easy to think he's slipping when he makes some bold moves — the recent Prince Fielder and Doug Fister trades, for instance. Sometimes, however, you've got to sit back and let a wizard work his magic.
In the past seven years, there have been more than a few deals that might've angered you and left you questioning Dombrowski's sanity at the time, but they've turned out to be in the Tigers' favor.
First off, Dombrowski needed his own coach, not someone else's. After watching Alan Trammell bungle his way through three years as manager, Dombrowski cut the cord. There's an old saying: "You do what you know." Dombrowksi took that to heart. He signed Jim Leyland, who'd been out of baseball for seven years at the time, as the Tigers' new manager in '05. A lot of people were baffled. But you see, Dombrowski was the GM in Florida when the Marlins, then under Leyland, won a World Series in 1997. The two had a connection and, as Dombrowski and Leyland almost single-handedly turned around the franchise, that connection proved fruitful.
The next big move that really made some noise was the Miguel Cabrera trade in 2007. The Tigers gave up an arm and a leg to acquire Cabrera, who was a very good player at the time, just young and somewhat raw. Dontrelle Willis was also part of the package, but as we know, he amounted to diddlysquat. Fans were unhappy, though, because Dombrowski savaged the Tigers farm system in the trade, giving up top outfield prospect Cameron Maybin and top pitching prospect Andrew Miller.
Miller and Maybin were supposed to be stars: the future of the Tigers. Dombrowski decided that Cabrera was the future, not Maybin. At the time, it was a risky move. Call it foresight — call it luck, even — but it turned out pretty damn well.
Fast forward a few years to December of 2009 and Dave was back at it. This time he traded fan favorite Curtis Granderson and ace pitcher Edwin Jackson in a three-team deal with the Yankees and Diamondbacks. Not only did the trade bring Max Scherzer to Detroit, but also Austin Jackson and Phil Coke.
Though Coke struggled last year, overall he's lived up to expectations. Scherzer has far surpassed any expectations that came with him from Arizona, and Jackson … well Jackson might strike out too much, but he's done just fine in centerfield.
As you can see, there's a trend here. A lot of the moves Dombrowski has made since arriving in Detroit haven't been received too kindly with the fans. But the man's track record is about as clean as a sterile hospital room.
It can't have been easy to move such popular players as Granderson or Fielder, but nobody's saying Dombrowski's job is easy. He has incredible foresight and an ability to get the best out of other teams without "screwing" anybody. So let's just sit back and watch what the new guys do next year — Dombrowski'll come through; he always does.