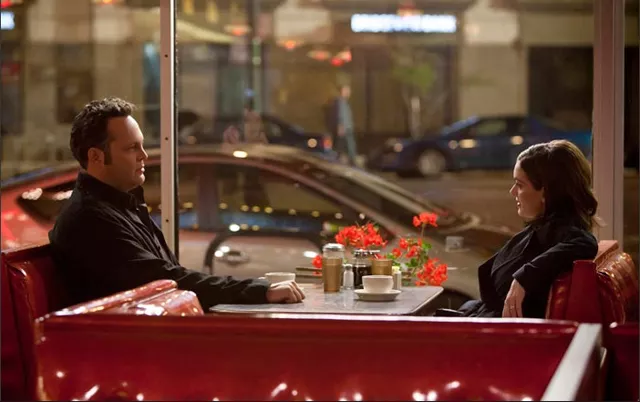 Though it's his strongest film, Apollo 13 ruined Ron Howard as a director. An Oscar contender, it's critical and box office success transformed Howard from a modestly talented studio craftsman into a "serious" A-list filmmaker, inflating both his budgets and reputation. His Best Director Oscar win for A Beautiful Mind was not only seriously misguided (three of the four other nominees made superior films), it also signaled a career slide that has included the laughably bad (The Da Vinci Code, Angels and Devils), the offensively absurd (Missing), and the beautifully acted but poorly directed Frost/Nixon.
The truth is, Howard's best work as a director is comedic in nature ... and several decades old. Injecting warmth and humanity into such movies as Cocoon and the wonderful Parenthood, he skillfully mixed humor and drama to create entertainment with both heart and smarts. The Dilemma, his latest effort, is clearly an attempt to return to form. Too bad it's an unsatisfying and schizophrenic mess.
Ronny (Vince Vaughn) and Nick (Kevin James) are best buds and business partners, automotive developers who are on the verge of landing their biggest contract yet. The goal? To make Chrysler's electric cars "less gay" by affecting the engine rattle and roar of yesterday's muscle cars. Ronny is the motor-mouthed pitchman and reformed gambling addict who's struggling to pop the question to Beth (Jennifer Connelly) while Nick is the straight-arrow nice-guy, married to his college sweetheart Geneva (Winona Ryder). The "dilemma" in question comes when Ronny discovers that Geneva is catting around with a younger guy (Channing Tatum). Should he tell Nick? When? Will it derail their chances of success? Should he confide in his girlfriend? Ronny frets and frets and frets — and starts to lie, which causes a cascade of hee-larious problems.
When you come down to it, The Dilemma is a chick flick with dicks. Only it's not funny. Well, there are a few decent chuckles, but they get quickly overwhelmed by the script's tragically serious "issues." Howard tries desperately to balance the comedy against the screenplay's tense domestic melodrama ... and mostly fails. His first-act setup is entertaining enough, but once Ronny starts stalking Geneva, the overworked marital dysfunction becomes a real buzz-kill.
Vaughn navigates the dramatic moments just fine but only occasionally brings the funny. James tries way too hard, Queen Latifah chews the scenery in a throwaway part, and the always-lovely Connelly is once again wasted in an underwritten role. Surprisingly, it's Ryder, as the unfaithful wife, who delivers the goods, giving her thinly scripted character more edge and emotion than the movie deserves.
The Dilemma ain't necessarily a bad flick; it's just a hopelessly disjointed one. More disappointingly, however, it shows how success has spoiled Ron Howard.