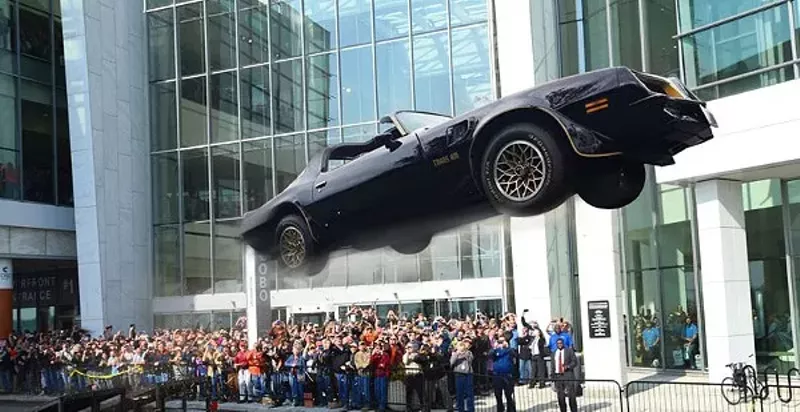 A planned stunt jump in Detroit that was to feature a replica of the car driven by the late Burt Reynolds in
Smokey and the Bandit
has officially been canceled, Autorama organizers confirm.
Autorama had planned on jumping the black and gold 1977 Pontiac Firebird Trans Am on Friday outside Cobo Center in honor of Reynolds, who is originally from Lansing and died in September at 82. But Detroit City Council put the kibosh on the event due the car's associate with Confederate flag imagery: In the film, the car has a license plate of the former state of Georgia flag, which featured the Confederate flag's "Stars and Bars" as part of its design.
Perhaps the image of a car associated with Confederate flag flying through the air outside of Cobo Center — which officials recently announced
would get renamed
due to the racist legacy of former Republican Detroit Mayor Albert Cobo — was a bit too much.
Stunt driver Raymond Kohn of the group Northeast Ohio Dukes
told WWJ
that the
Bandit
replica was never going to feature the Georgia state license plate. However, for 2017's Autorama the Northeast Ohio Dukes jumped a
Dukes of Hazzard
replica car that featured a Confederate flag painted on the roof.
"Autorama, which has a history in the city of Detroit, also has a history of supporting imagery and symbols of racism, oppression and white supremacy as well as American, home-bred terrorism right here in the United States," Councilman Scott Benson argued during a meeting earlier this month,
The Detroit News
reports
.
Autorama said they would try and work with the city to make the jump happen. Apparently, the negotiations were fruitless, and the stunt has been officially canceled.
"The Pontiac Trans Am stunt jump was a nod to the Motor City," Autorama president Pete Toundas said in a statement. "Unfortunately, our permit was not approved and the stunt jump will not happen this year. We hope to continue the tradition in 2020."
Autorama organizers say that though the stunt jump won't happen, Autorama will still feature other tributes to Reynolds. The Bandit replica will be on display inside the show, and a Reynolds look-alike will be present.
The 67th Annual Detroit Autorama, which will be held from March 1 through March 3, will feature more than 800 hot rods and custom cars, including the show's first-ever lowrider car invitational, many of which were sourced from metro Detroit's Latino community.
Get our top picks for the best events in Detroit every Thursday morning. Sign up for our events newsletter.