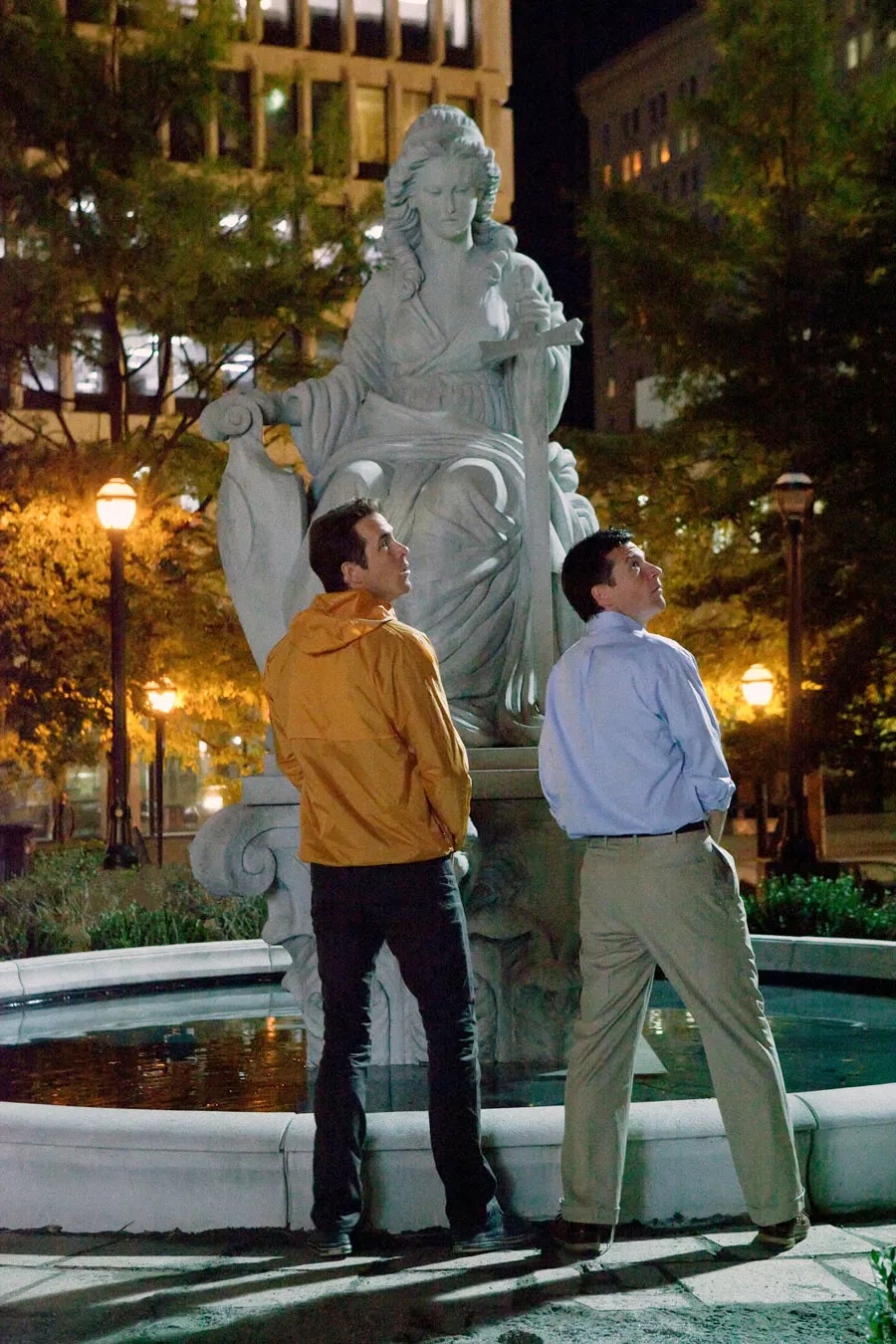 Raunchy is as raunchy does, and The Change-Up announces its intentions straight away, launching a hot jet of baby poop right at poor old Jason Bateman's mug in the opening minutes. If that's not enough to stir you up from your seat, strap in, as the parade of naughty giggles and potty jokes has just begun. A lowbrow, high-concept comedy a la Hot Tub Time Machine, The Change-Up returns to the moribund "body switch" genre, which has produced such classics as Being John Malkovich and the turds Vice Versa and The Hot Chick. Where would you guess this one ends up on the spectrum? Somewhere near the bottom of the heap, yet The Change-Up attempts the cop-out of self-awareness; the stars have even admitted in interviews the flick is "garbage," so let's all just wink and get through this together, OK?
Typically there is an age or gender difference involved, but here we have peers, with only life choices between them. Mitch (Ryan Reynolds) is a responsibility-free, hound-dogging slacker with a playground bachelor pad, and his BFF Dave (Bateman) is a buttoned-down workaholic with a nice home and loving wife and adorable kids, which he can barely stomach. Both are bored with the status quo, and after jointly pissing in a magic fountain (really) these buds get to swap roles and learn vital life lessons while continuing their foulmouthed, sophomoric assault on decency with different faces. One selling point is seeing the actors playing against type, and, as seen in Horrible Bosses, Bateman excels as the straight man. But here he cuts loose, as vulgar, skirt-chasing anarchist, and Reynolds must reel in the charm as the sober, stable one. Truthfully the characters are so sloppily drawn it's easy to forget who's who at times.
These goofy dudes are like ugly cartoons of Maxim's ideal readership projections, and the women come off worse. The appealing Leslie Mann gets to be the needy wife yet again, and stunner Olivia Wilde is stuck with the straight-laced secretary with a slutty side role. Though Mann does her damnedest, the gals are ostensibly props, a point driven home by the apparent use of fake boobs — I mean really fake boobs, like distracting shop-built latex numbers that look like airbrushed fantasy tits from an old Heavy Metal magazine cover.
With the director of Wedding Crashers and the writers of The Hangover on hand, the expectations are high, but a truly quality studio comedy is rare and exotic thing these days. The Change-Up makes the most of its hard R rating, crassly hurling bodily fluids at the screen and hoping for the best. The "best" is a string of giggles and one or two big laughs, not enough to keep up in the bawdy arms race led this summer by Bridesmaids. The Change-Up is gross, crude and intermittently amusing, but you'll wish on something more.