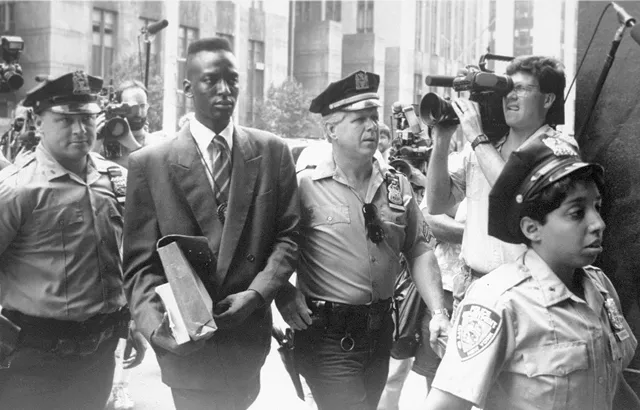 The Central Park Five | B-
It's tempting to give the sober and cogent The Central Park Five a better rating than it deserves in an attempt to show solidarity with the teens who were so despicably denied justice. It's an important piece of recent history that speaks to ongoing issues that vex American society today — racism, the convict-at-any-cost practices of our courts, and the knee-jerk reactions of the public and media.
But that is not the job here. The job is to evaluate whether Ken Burns, Sarah Burns (who was a paralegal for the plaintiff's lawyers and wrote a book on the incident) and David McMahon have made a first-rate documentary on their subject. Unfortunately, they have not. Respectable would be a more accurate term.
The facts are undisputed (unless you're one of the original prosecutors): On April 19, 1989, a white female investment banker was jogging in Central Park when she was dragged from the path, brutally beaten, raped and left for dead. At the same time, in another part of the park, a group of young black men was harassing joggers and bicyclists. Watching them were five Harlem teens, who, though they didn't really know one another, were rounded up by police and accused of assaulting the banker. The boys, who were between 14 and 16 years old, underwent grueling interrogations, during which the police intimidated them into falsely admitting their participation. Almost immediately upon being charged, all five claimed that they were innocent and had been coerced into confession. But the D.A.'s office, local media and an angry public were certain they had caught the perpetrators — even though there was no physical evidence linking any of the teens to the crime, and their confessions contained incorrect information and contradictory accounts. A media circus ensued, all five were found guilty and they all served out their sentences in prison.
Another terrible crime story in the big city, right? It doesn't end there. After a chance encounter with one of the teens (now an adult), a serial rapist, under investigation at the time, confesses to the assault and demonstrates that he was indeed responsible. New York belatedly exonerates the men, despite protests from the prosecutors involved, but offers them nothing for the years they've lost. The press makes little of the outcome.
It's not that Ken Burns and his co-directors aren't skillful and thoughtful in their approach, it's that The Central Park Five is too limited in scope and exploration, and far too clinical. Meticulously, the documentary lays out what happened on the night of April 19, provides a contextual backdrop for the events — New York in the 1980s was in turmoil, reeling from the AIDS epidemic, gang violence, crack cocaine, economic decline, police brutality and vigilantism — and reveals the terrible flaws in our legal system. But it fails to examine the human underpinnings to the story. Though it makes a fierce case for the five's innocence, it fails to meaningfully engage with them as individuals. Four were black, one was Latino. One earned a college degree while in prison, another fell into drug dealing after release. How do they feel about not receiving compensation or even support after serving time for a crime they didn't commit? The experience has clearly scarred each in unique ways, but Burns mostly treats their outcomes as just another fact in a logical progression of injustice. The film spends far more time laying out the blow-by-blow details of the case than who each of these men were and are now as a result.
The Central Park Five further suffers from the fact that the rape victim, her attacker, and the cops and prosecutors involved all declined to participate. Their absence is strongly felt. Even more so because the film fails to interview anyone who can offer meaningful perspective on their behaviors, backgrounds or thinking. It's a profound gap in a doc that prides itself on the thoroughness of its coverage.
Through talking head interviews, archival footage, and images that seem like they were pulled from a stock footage catalog, The Central Park Five offers a necessary lesson in contemporary history, making clear how racism, institutional bias, legal misconduct, political ambition, media sensationalism and public hysteria undermine American justice. There is no resonant revelation or deep insight into the human condition here, just a well-presented indictment against a system that denied five teenage boys of their basic natural rights. We should be ashamed, not only that it happened then, but that it continues to happen today.
Opens Dec. 14, at the Main Art Theatre, 118 N. Main St., Royal Oak; 248-263-2111; landmarktheatres.com.