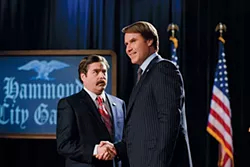 The Campaign| B
Director: Jay Roach. Screenplay: Chris Henchy, Shawn Harwell. Starring: Will Ferrell, Zach Galifinakis, Jason Sudekais. Rated: R. Running time: 85 minutes.
The Campaign might just be the movie we deserve in this dire election cycle: It's cynical, vulgar, mean-spirited, weirdly familiar and yet often hysterical. It is ostensibly just a big, dumb farce about a pair of noisy, feuding, immature politicians all too willing to debase themselves for a win, but there's potent satirical content embedded between the fart gags, like half of an aspirin in a spoonful of pudding.
As incumbent North Carolina congressman Cam Brady, Will Ferrell does a riff on his iconic George W. impression, with some John Edwards snake oil drizzled on top. In fine Ron Burgundy tradition, he's an overconfident, oversexed empty suit, looking to cruise through to another term in D.C. where the glitzy perks flow like milk and honey. He hits a snag when a filthy voicemail intended for a nubile conquest ends up on the message machine of a good, clean-voting family, and then hits the press. Smelling blood in the water, corrupt, deep-pocketed business tycoons (hammy Dan Akroyd and John Lithgow, shades of Don Ameche and Ralph Bellamy in Trading Places) recruit a dope from a well-connected family to challenge Brady — and do their bidding. Their rival candidate proves to be a real doozy: Marty Huggins (Zach Galifinakis), a droopy-mustached puffball with a squeaky, sing-song Southern drawl and a closet full of hideous Cosby sweaters and mom jeans. A devious consultant (Dermot Mulrooney) is sent to whip Marty's flabby ass into shape, remodeling his wardrobe, furniture and slovenly family. Not even Marty's dogs are safe, after his opponent calls his Pugs " Chinese commie dogs."
What began as a cakewalk becomes a dogfight, with clashes over who is more religious, patriotic, gun-loving and red-blooded. The tricks keep getting dirtier, as the mudslinging escalates into hair-pulling, accidental baby-punching and Dick Cheney-style "hunting accident" gunplay. By the time Brady retaliates by seducing Huggins' long ignored wife, and makes a sex tape (and campaign commercial!) out of it, things are irretrievably nasty.
By now the Ferrell's playbook has become as regimented as Kabuki: There's shouting, classlessness, inappropriate comments, flabby shirtless moments, temper tantrums and a scene where he freaks out under the influence of some sort of controlled substance. Ferrell dependably hits these same beats in most of his movies, but their familiarity actually works in his favor; if you're a fan, you will likely laugh at his shtick reflexively. Zach Galifinakis is a tougher sell; he's amusing, but his intentionally squirmy, oddball character is a tad too cartoonish to hang a whole picture around.
In the third act, when the candidates begin to finally think about the wicked system they've been caught up in, the contrast between satire and silliness becomes untenable. Director Jay Roach, who makes political docudramas like Game Change as well as camp like Austin Powers, seems like a perfect choice for the material. But Roach is no Frank Capra, and though the movie delivers some huge, raunchy laughs, it is a little short on heart, and — as many politicians learn too late — it's very hard to make everyone happy and stay true to your convictions.