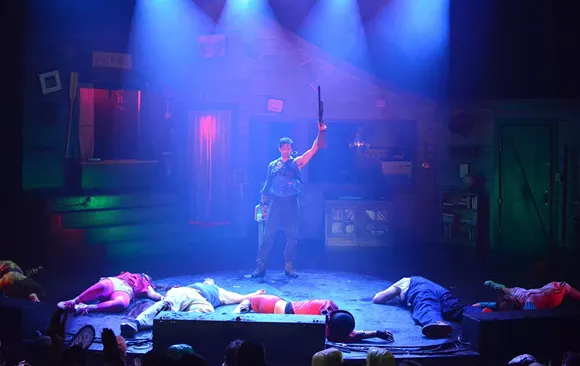 To paraphrase an old saying, "anything worth doing, is worth doing as a flamboyant, gory musical."
The latest follower of this philosophy
that I just made up
is "The Evil Dead" series, director Sam Raimi's cult classic trilogy of horror-comedies following the bloody misadventures of Ash Williams, a houseware salesman-turned-chainsaw-wielding demon hunter.
Tickets for "Evil Dead: The Musical" at the City Theatre go
on sale Friday, June 10, at 10 a.m.
The production will run from September 29 to October 29. Tickets are $30 for general admission and can be purchased at OlympiaEntertainment.com, the Fox Theatre, Joe Louis Arena and the City Theatre box offices, including the location inside Hockeytown Cafe.
This is the production's seventh season at the City Theatre, featuring a talented, local cast full of both new and returning members. If you're the type of die-hard fan who want's an up-close-and-personal view of all the gory fun, Splatter Zone seats are available on a first-come-first-serve basis.
Taking elements from all three "Evil Dead" movies, this musical follows the story that fans love, but with all the added humor and energy you could expect from a Broadway musical, with numbers like "All the Men in my Life Keep Getting Killed by Candarian Demons", "What the F**k Was That?" and "Do the Necronomicon."