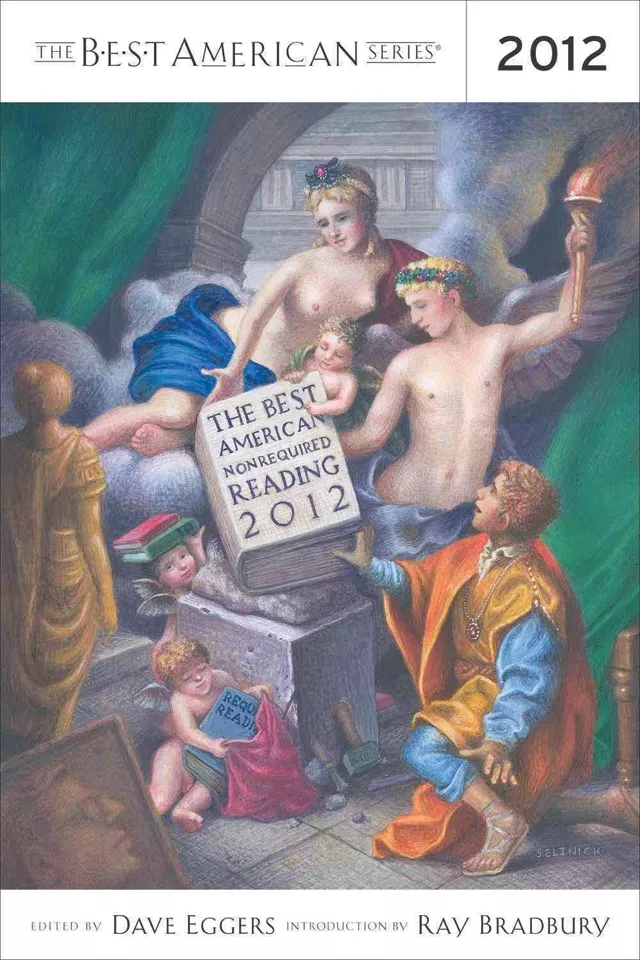 The Best American Nonrequired Reading 2012
Mariner, 432 pp., $14.95 
The foreword to The Best American Nonrequired Reading 2012, the 11th edition of the series, is very short because, as editor David Eggers puts it, "No one reads forewords written by editors, especially given this is the tenth foreword I've written." He goes on to explain that the pieces included in the book were chosen, as always, in conjunction with classes of students who read "everything we can," discuss it, and ultimately vote yes or no on inclusion. 
You could probably do some interesting analysis of the year-to-year zeitgeist of American young people based on the selections they've made for each edition. I've not read all the previous editions, but I've read enough to know that this year's deviations from the typical format yield some interesting insights.
The first section, generally reserved for short, relatively light, and often funny little bits — somewhat like Harper's much-revered "Readings" section — includes entries that are even shorter than usual but with considerably less levity and humor. A single page of the "Best American Tweets Responding to the Death of Osama bin Laden" is a highlight, but even there the humor is undercut by a twitchy sense of unease (example from the erstwhile editor of Vice magazine: "@gavin_mcinnes: All it took was 40k dead and half a trillion $. In your FACE Osama!")
The shorts section also includes "Best American Lonely Guy," 15 pages of transcribed voicemails received by "Jeff, one lonely guy," who posted a flier in New York City reading, "If anyone wants to talk about anything, call me." They range from upbeat to clueless and completely desperate and deranged — a not entirely encouraging reflection of the kind of help New York City has to offer a lonely guy.
There are five separate entries related to the Occupy movement, including two from The Occupied Wall Street Journal as well as the minutes from an Occupy Wall Street general assembly meeting. The tone ranges from reverential to mocking — particularly the minutes, which are edited to emphasize the many issues and concerns related to drumming circles on-site. The number of entries dedicated to the movement seems excessive even now and will probably seem even more so in the light of history.
In this era of ever-shortening attention spans, it comes as somewhat of a comfort that the best entries are found in the short story and fiction sections. There, we find essays and reported stories that could have been written in any number of eras, even when they deal with modern dilemmas, and could speak to readers in any age. Among the best of those is Judy Budnitz's "Tin Man" — a story about a young man pressured to donate his heart to his ailing mother — which has the surreal climate and fevered pace of a dream, only with terrific humor and quite a bit to say about guilt and duty.
Many of the entries are much darker. "Redeployment," by Phil Klay, recounts the author's struggles adjusting to life back home after a tour in Iraq, where, despite being a "dog person," he found himself shooting canines for no real reason. Mona Simpson's eulogy of her brother, Steve Jobs, in which she describes his difficult but virtuous final days, is likewise painful to read and deeply revealing.
Even Adrian Tomine's comic strips, "A Brief History of the Artform Known as Hortisculpture," written in a serial format — each ending with a punch line, as if they were running on a newspaper's funny pages instead of Optic Nerve — have an undercurrent of economic uncertainty: The hero is a gardener who spends years trying to find an audience and appreciation for his artistic visions, only to give up and hack his works to bits. Ron Jonson's "The Amazing Adventures of Phoenix Jones" is a well-written profile of a real-life superhero and his like-minded comrades, but even this feels weighed down by the commentary it makes on a society that would both generate and mock such a man.
As is often the case, this year's Nonrequired Reading is a bit too forgiving of overwritten, pretentious pieces like Jess Walter's lazy, zombie-themed "Don't Eat Cat" and Michael Poore's "The Street of the House of the Sun." Combined with the heavy lifting of even the best pieces here and the focus on trends that already feel outdated, it's far from the series' best editions — and certainly not its breeziest — but still a potent time capsule for an imperfect era.
Evan Serpick writes for City Paper in Baltimore, where this piece first appeared. Send comments to [email protected]