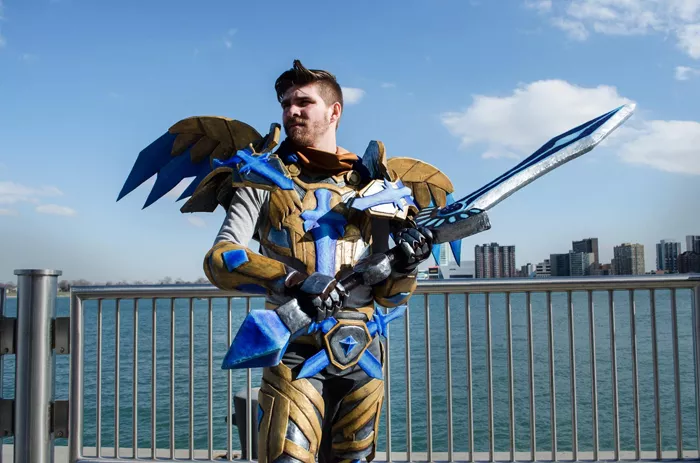 Truth be told, we're sort of novices when it comes to comic books and the conventions that celebrate their existence. We like Christian Bale and Andrew Garfield (Batman and Spider-Man, respectively), so we suppose we're fans by default. But we've long found the idea of comic book conventions both compelling and intriguing.
A slight misnomer, considering much more than just comic books go into an event of this magnitude, comic conventions encompass the art of crafting comic books and graphic novels, as well as that of cosplay. Media guests are also a big draw, and this year's Motor City Comic Con will feature William Shatner.
At its core, however, comic conventions are about community. Matt Roman, a graphic designer at Shinola, hasn't been a cosplayer for much more than a year, but he's found that friends are easy to make in the scene.
"I think that a lot of people think cosplay is an exclusive club that you can't be a part of if you don't make your own costumes. But that's not the case. It truly is for everyone whether you make or wear a costume. Anyone can break into [it] at any time. It's not just for nerds, which is a huge stereotype associated with the community," Roman says.
Inclusive in nature, comic conventions are a place to gather and commune, sure, but discussions and showcases take place as well, rounding out the offerings.
"There's so many things to do at conventions," Roman says. "You can go to panels that range from learning how to build costumes to discussions about your favorite fandoms. You can take photos with other cosplayers. There's almost always a cosplay contest to watch."
This year's events include movie screenings, comic book giveaways, lectures on how to self-publish, and a special party celebrating the 25th anniversary of the Motor City Comic Con. (For a complete list of events, check motorcitycomiccon.com.)
Local comic book and graphic novel creator Shaun Manning will also be a featured guest at MCCC. His new graphic novel, Interesting Drug, drops later this month, and he'll be there promoting it.
A con-veteran, Manning has a wealth of knowledge about conventions: "There might be this idea that cons are for hardcore fans only, and that everybody's in these cheesy costumes. Well, first, there are usually some pretty amazing costumes! And more importantly, cons are for everybody. Especially now that there are more superhero movies and cartoons, and not, obviously, comics, stories like Walking Dead are reaching a wider audience through TV and film —there's something for everybody, and everyone can find something new. And they really are a lot of fun for kids. I took my daughter to a con last year — she's 4, we got her started on comics with My Little Pony and now she's loving the new Hello Kitty books. She was very keen on some of the custom toys, and she got a really funny picture with Jill Thompson, who does the very cool Scary Godmother books. There's a ton of stuff to see and do, and the experience is what you make it. So go ahead and dress up!"
Having covered comic conventions for Comic Book Resources and being a longtime attendee, Manning is looking forward to enjoying MCCC from a new perspective.
"Being on the other side of the table is pretty new and exciting, and it's especially great to return to the Motor City con. It was my hometown show growing up, my first experience with comic conventions, and it'll be great to come back to it in this new way," he says.
Roman says it's best to dive in rather than dipping your toes in the water. And, dude, no one is going to judge you.
"Being at a convention really allows people to express themselves in a creative way without having to fear being judged negatively," he says. "My best recommendation is to jump right in and start making things. Cosplay is all about experimentation, and just like anything else, you have to practice to get better. I encourage people to find other cosplayers that inspire them."
Similarly, Manning advises: "Have an idea about the things you want to do and see, but be open to new experiences. Be open to being surprised, because I think that's the thing. A lot of my favorite moments at conventions are not things that I've looked for; they're things that happen just from having my eyes open to the things that were around me and talking to people and just being open to a change of plans."
Held at the Suburban Collection Showplace in Novi, some fans have complained that Motor City Comic Convention should be held in the Motor City. Founder Michael Goldman, however, says the convention will continue to be held at the Suburban Collection, noting that for every fan who voices their wish for MCCC to move, many more express that they would rather it stay in Novi.
The Motor City Comic Con runs Friday-Sunday, May 16-18, at Suburban Collection Showplace, 46100 Grand River Ave., Novi; 248-426-8059; motorcitycomiccon.com; door times and ticket prices vary.