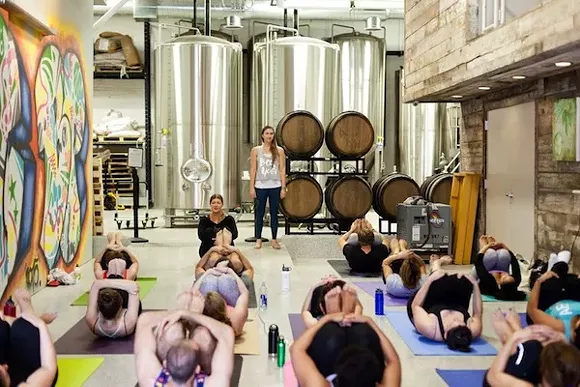 Strictly speaking, you don't usually think of yoga and beer together.
Sure, it's not unheard of to go through a long, sweaty hour of sun salutations and assorted asanas, only to shower off and discover a newfound craving for that malt-forward Franziskaner Dunkel Weisse. But beer and yoga together?
That's the concept yogis Melissa Klimo-Major and Mikki Trowbridge came up with. The two twentysomethings met on Instagram several years ago, and last year they came up with the idea of offering people a yoga class that takes place in a brewery or tasting room — and comes with a complementary beer. They did our first class together in New York City last September, and this summer they're doing a cross-country road trip to get people excited about two great things that go great together.
So we talked with Trowbridge and tried to figure out what it's all about. Turns out that bringing beer into it helps draw a crowd that might normally be intimidated by yoga, all while making the yogis more convivial.
Metro Times:
Yoga is a healing discipline about centering one's self and feeling joy in one's body. How do you square that with drinking beer, which seems to be more associated with excess?
Mikki Trowbridge:
I think we've all done that excess. Hopefully beer can be enjoyed in moderation too. What it's more about for us is the idea of balance. Yes, there are many types of yoga where they don't drink. But I think our modern-day average yogi here in the United States, they also potentially eat meat, or they also potentially drink beer or wine, and I think it's about finding that balance in your life between taking care of yourself and being healthy and feeling good — but then also letting yourself have some fun too. And, yes, if you go out at night and drink in excess, you won't feel good! [laughs] But in my classes, we talk a lot about yoga and beer being the combination of things that, in moderation, make us feel good. You can overdo anything. You can overdo yoga, too, and then it doesn't feel so good either. But, hopefully, in moderation, it's a combination of things
MT:
Which comes first? The beer or the yoga?
Trowbridge:
We don't judge. Most of our classes take place after work, and we all know that sometimes the day leaves you where you just need that beer. Everybody gets one beer included with registration for class, and they can choose when they want to have that beer. They can drink it during class if they want to. It's technically yoga and beer, with beer following yoga. But in yoga, it's a judgment-free zone. So if you need to drink before class or during class, then you're welcome to do that. I don't know how some people don't get stomachaches, though. [laughs]
MT:
I'm trying to imagine someone doing a head-to-knee forward bend, and also taking a little sip …
Trowbridge:
It's funny, each of our communities is a little different. In Ohio, I know most people don't drink at Melissa's events, they wait until after class. I teach all over Oregon, and at Portland events, people refuse to touch the beer before class, but on one Wednesday night in Salem, we had 100 people, and I would say probably 60 people had beer in class. [laughs] So, it's funny to see the different cultures. Yeah, we would totally be like, in a standing forward fold, and people would pop forward and take a drink of their beer, or in their balanced tree pose, sipping on their beer.
MT:
Well, they say you play pool better after one drink. Is there a similar thing going on with yoga, where you're able to hold that tree pose a little more gracefully?
Trowbridge:
It might be worth a try. I think for us, though, it's just about making yoga accessible. For someone who doesn't practice yoga all the time, going to a yoga studio for a class can be really intimidating, like you feel like you're not part of the crowd, maybe you feel like you don't have the right clothes. You don't know what to do, you don't know the poses, you don't know Sanskrit. There are a lot of barriers that kind of make yoga feel maybe not so approachable or welcoming if you're new to the practice. So we thought: Let's take out all of the things that make this unapproachable or intimidating for people, so you really get this feel-good experience and, enjoy your yoga.
MT:
Does it work?
Trowbridge:
We hear a lot of people say, "I never thought I'd do yoga. It really has intimidated me. But I had a beer first, and it relaxed me a little bit, and then I was able to do yoga, and it felt not so scary. And now I can probably go to a studio and be OK." Like any new experience, sometimes it can be kind of intimidating or scary, or nerve-racking. And if beer helps with that, then … awesome! [laughs]
MT:
What other benefits are there?
Trowbridge:
Well, so often, it's easy to go to the gym or go to a yoga studio, it's easy to go in, and like, do your class, or do your workout or whatever it is, and leave — and you might never meet anyone, or connect with anyone. The yoga-and-beer setup allows that social time after class, so, y'know, in a yoga studio you've got a class, class ends, you maybe say hi to a couple people after class, and you head off into your night, but with the yoga and beer model, we stay after class for a pint. So it's not just connection with self, but also connection with community as well, and like-minded peers. That, for us, has been a really great model. I think we all crave human interaction, and beer for thousands of years has been a type of social lubricant, if you will, and it's been a source of connection, people will come together at a pub for a pint, or a glass of ale for as long as history has existed, and it's not necessarily anything new or creative, it's just combining two things that at least in our opinion feel good, and bring people together
MT:
Are the classes mostly female, or do they draw maybe a few more males because of the beer?
Trowbridge:
We drum up a few more males because of the beer, and I hate to gender stereotype, but I think what we typically see here is that men that aren't already practicing yogis feel a little bit more comfortable coming with their wives or their partners. We hear that a lot, "Ugh, my wife wanted me to come to yoga with her since forever, but I would never go. But this time she said there was beer, so now here I am." [laughs] And on the flip side, I think women are more and more drinking beer, so there's an opportunity as well for breweries, to get women involved and do some education for them about beer.
MT:
It seems like there's a marketing opportunity in there somewhere, maybe a special edition High Lunge Hops, or a Downward Dog Doppelbock?
Trowbridge:
[laughs] We were just having a conversation with a brewery yesterday, where I was like, "Come on, guys. What are we going to call this thing?" So, yeah, we're working on it.

Yoga and Beer class is scheduled 6:30-7:30 p.m. June 30, at Atwater Brewery, 237 Joseph Campau Ave., Detroit; 313-877-9205.