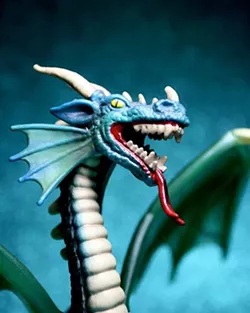 LORI O'CONNOR'S love of photography started when she was young after she was given a miniature spy camera as a gift. Hiding the tiny camera up her sleeve — spy-style — O'Connor documented everything around her, she says, favoring the camera over a journal to record the moments of her life. She has parlayed her love of documenting the world into a photography career, shooting professionally for paying clients, but also creating artistic photos — many of them featuring toys — that get quite a reaction at art fairs. We spoke with her recently.
Metro Times:What inspires your work?
Lori O'Connor:It certainly doesn't hurt that I am a huge science fiction-loving nerd, or that my husband collects superhero comic books, but truly my son was the original inspiration for what I do now. When he was born seven years ago, I wanted to spend more time with him and less time away from home. With his toys (and some of Dad's and Mom's as well) strewn around the front room, pictures of the random toy started getting mixed in with pictures of him, and so began my love of photographing small things. I enjoy having to scoot up close to an object to really see the details and for this. Toys work wonderfully. I like feeling like what I am looking at, even if it is plastic, has life behind its eyes.
To this day my son is still my official "assistant," which really means there is an abundance of photos with one impatient little hand coming in and taking that day's toy out of frame for some fun playtime.
MT:How did you learn your craft? Are you self-taught or did you receive a formal art education, if so where?
O'Connor: My love of documenting everything fueled my enthusiasm for photography, so while I may have began as basically self-taught, I eventually turned that love into a BFA in Photography from CMU.
MT:What materials do you prefer to work with and why?
O'Connor: Toys … I can pose them, move them, pile them in the middle of the floor, bake them in the sun or make them work long hours late into the night and they don't ever complain … it makes for a nice working environment.
MT:Do you make art full time or do you have a day job? If so what is your day job and does it, if at all, influence your artwork?
O'Connor: My photography is my full-time paying job. One of my full-time non-paying jobs is working as one of the organizers for Redford's IART Festival each year with the goal of helping to promote local art in and around our community. It's not a huge festival but it is nice to be involved in something that helps bring more art and art awareness to the area.
MT:When did you start making art? What compelled you to make it? Is it the same thing that compels you to make art now?
O'Connor: I fell in love with taking pictures when I was pretty young and someone gave me a miniature spy camera that was literally the size of the film you put in it, after that I was hooked. Never far from a camera (usually hidden up my sleeve spy-style), I really liked the idea of documenting things around me. I am complete crap at writing in a journal, but look at my years of photos and you will definitely see a narrative of events in my life.
My photography has certainly changed over the years. I have spent many years working as an independent product, wedding, baby, portrait, pet, newspaper and a music-loving band photographer. Slowly searching my way through what photography would eventually be to me.
These days I think I have finally found my photographic happy place, here in this little niche where my love of toys and taking photos makes sense and work so nicely together.
MT:Does your artwork have a message or special meaning, or do you just like making shit that looks cool? Or is it somewhere in between? Describe your work.
O'Connor: I really just like making stuff that looks cool. A lot of my subjects are recognizable (if not oddball) toys from the past, so when someone steps into my booth at a festival and sees something they used to play with when they were young, they instantly get a giant grin on their face. My hope is that I am bringing these pieces back to life for them and in a way that would be suitably cool for them to display now.
See O'Connor's work at Craft Circus, 1015 N. Congress St., Ypsilanti, Nov. 9; Flint Holiday & Craft Market, the Masonic Temple, 755 S. Saginaw St., Flint, Nov. 30; and at the MSU Holiday Arts & Crafts Show, 319 MSU Union, East Lansing, Dec. 7 and 8. View a slideshow of more of her work here.