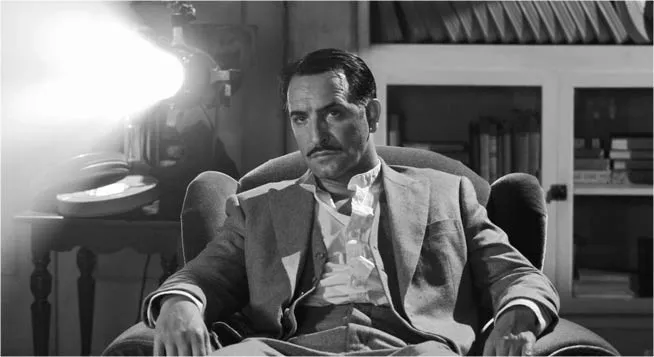 The Artist
Written and directed by Michel Hazanavicius. Starring Jean Dujardin, Berenice Bejo, John Goodman, James Cromwell, Penelope Ann Miller, and Malcolm McDowell. Running time: 100 minutes. Rated PG-13
A
Silence is golden in The Artist, an effervescent salute to the shimmering, glamour-soaked Hollywood of our hazy collective remembrance: more nostalgic for a feeling than any specific film, it evokes sense memory by limiting one of them. Technically it's intended as a silent, as the actors do not speak for most of the film, but with a sparkling score by Ludovic Bource, along with some classic show tunes, it's the most toe-tapping "silent" ever made.
French star Jean Dujardin seems scraped off an art deco lobby card as George Valentin, a matinee idol whose good looks and larger-than-life charm makes Douglas Fairbanks and Errol Flynn look like pikers. He is the toast of Hollywood; the man every guy wants to be and the man every woman wants to be with. Very closely resembling the true-life story of John Gilbert and Greta Garbo, he gives a break to a struggling young wannabe, a spunky flapper named Peppy Miller (Bérénice Bejo). She becomes a sensation just by standing close enough to his white-hot spotlight; and for a time both professionally and romantically, they are riding a comet together. But bliss is short-lived; her stock soars and his plummets. He is unwilling to adapt to this newfangled invention called "the talkies," insisting on doing things as he has always done them; certain this new way is just a fad. George refuses to feel the earth moving beneath him, and is soon adrift — an all-but-forgotten relic haunting his lonely mansion, endlessly rescreening his greatest hits. Only his dog and his butler (a delightfully prim James Cromwell) remain loyal, devoted companions even as he sinks deeper into a funk. Without applause, this lion of a man shrivels. The world has turned its back on the idol they adored, but Peppy still nurses a flame for the lover and great man who made her famous, and with hope and a good pair of tap shoes, there's always time for a glorious curtain call.
The genius of The Artist is that we've quite literally seen all this before; or a least we imagine that we have. The plot, of course, is very old hat, the umpteenth reworking of A Star Is Born, with deliberate echoes of films not from the silent era but about them, such as Singing in the Rain or Sunset Boulevard. Here and there are subtle nods to silent-era filmmakers from Frank Borzage to Hal Roach sprinkled about, but there is more a general allusion to the era than specific swipes; if anything, it's not the silents but the ironically plucky spirit of Depression-era musicals that infuses The Artist with much of its irresistible energy.
Deprived of their voices, the performers are forced to crank up their intensity, and the audience is compelled to lean in and really listen to what they are saying. John Goodman booms as a studio mogul, but we can only hear his famous bellow in our heads; and the utterly brilliant Dujardin, who most Americans are unfamiliar with, practically erupts through the screen with his ramrod posture and megawatt smile. The power of the performances makes us appreciate the bygone stars who got by on pure charisma, turning what modern viewers (including grouchy old me) often see as a handicap into a strength, with a witty use of the form, and the even funnier ways the movie breaks all the rules. It's an incredible trick, in a movie full of tricks, that we are shown the value of a lost art form we thought obsolete, even as the story is about embracing the future and moving forward. It is a movie about other movies, and therefore bound to draw fulsome praise from critics who want to feel rewarded for their scholarship; but the real magic of The Artist, is that all you need to know is on the screen.
Director Michel Hazanavicius, in his first American production, has pulled of a miracle, making a gimmick with a pretty wispy framework into something sturdy, memorable and moving. If you don't stroll out of the theater with a grin plastered on your mug and song in your heart, than buddy, you probably didn't love the movies to begin with.
Opens Friday, December 23 at the Landmark Maple Art Theatre, (4135 W. Maple Rd., Bloomfield Hills; 248-263-2111), and at the Michigan Theatre (603 E. Liberty St., Ann Arbor; 734-668-8463).