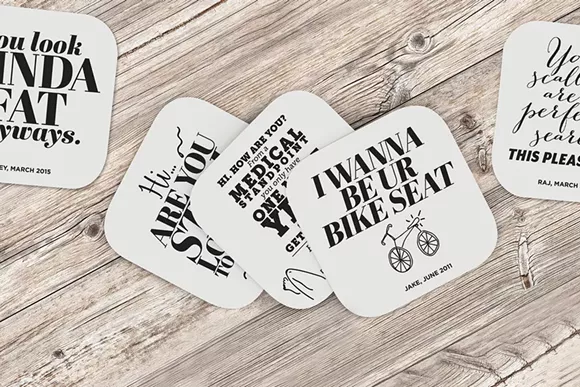 The world of online dating is a chasm of shenanigans — swiping, selfies, unsolicited images of genitalia, and occasionally messages like this one:
"You're a drunk single angry mean loser who will never have children."
Detroiter Sarey Ruden knows this ugly side of online dating all too well; she's been collecting messages like the one above for years — yes, years — and recently decided to do something about it.
Ruden, a designer, began to create stylized images of the quotes and posted them on Instagram and Twitter under the moniker @SareyTales. She says she's always loved typography, and after receiving a particularly brutal message, she wanted to turn it into something beautiful.
"I wasn't even hurt, I was just astounded that someone had that ready to go," Ruden says of the message, which came from someone she'd gone on a date with but ultimately expressed her disinterest in. "He intended for it to hurt me and make me feel little, and I knew that second it had to be made into something."
In addition to the cheeky social media accounts, Ruden creates poster-size prints of the messages, and on her Etsy site, they are showcased hanging prominently over beds and couches. They are simple, modern typefaces, usually black on a white background, with the quotes in bold proclamation. Underneath, the name of a man and a date.
Ruden says it was important for her to include the names (though those are changed) and dates to convey that these are real messages from real people. "This isn't stuff I'm making up," she says. "It's a direct quote.
"I want there to be friction and tension, just enough to make you look and think about it."
And unfortunately, Ruden says, there's no shortage of content.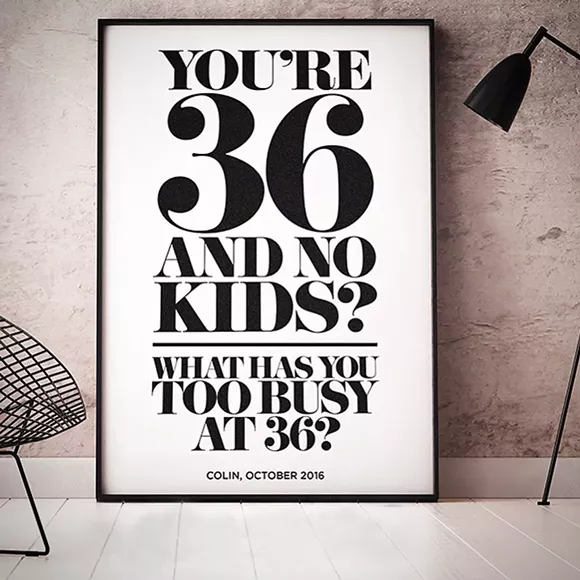 "One guy messaged me, 'You have one more year to get pregnant,' — really? Is that all I'm here for?" she says. And yes, there are others, which run the gamut between oddly amusing ("Still searching desperately for a cucumber to fill you online?") to profane haikus ("Oh you would be so/ Addicted if I gave you/ A taste of my cum.")
"People didn't believe me," Ruden says. She'd often take screenshots of the messages and share them with friends. Ruden says she's often asked what she'd said in order to make the other person say such disrespectful things. "Of course people say, 'Well maybe you did say something shitty.'" Ruden admits to occasionally clapping back, but says it was a futile effort.
"Most of the time, there is no beginning," she says. "They're just authentic, unsolicited crappy thing. If you don't reply, you're 'stuck up.' If you reply and say you're not interested, they yell at you."
Ruden suggests the perceived anonymity of online dating gives men a sense of entitlement and the freedom to say things they would never say face to face.
"You're just a picture, and if they don't get the response they want, they say things that no one would tolerate in real life," Ruden says. Ruden says she feels the men would not want people to know what they've said, and her work is an effort to expose it.
Ruden also says she has felt like somehow the messages she received were her fault, or that it would somehow reflect poorly on her.
"It's rape culture," she says, something even older generations have the tendency to play into. "My parents don't understand. They said, 'Why do you want people to see this?' and it's because I know I'm not those things men have said to me."
The people who have sent the messages may never see it, but Ruden says the catharsis of creating the work is more than enough reward. Although, remember the guy who told her she was a money-hungry drunk cunt?
Last week, Ruden received an email from him with an apology.
Ruden's work is also available as greeting cards and coasters (available at Leon & Lulu in Clawson) and she welcomes submissions for personalized works and "guest tales" on her social media sites.