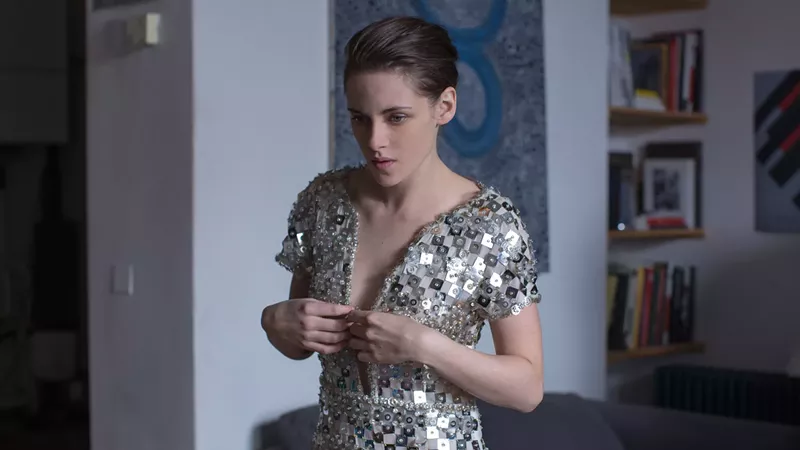 For many artists, as they work and age, remaining contemporary can be an uphill climb. Staying of their ever-shifting moment, and attending to present-day concerns within their work and even their discussions of the same proves to be the sort of challenge it's often best to disregard — because a failed attempt case would so often prove awkward, embarrassing, and thus ultimately a waste of effort. At the same time, it can feel like a quiet imperative as much as a reputational temptation: Why make work that doesn't speak to the present moment? Why should anyone produce or see it? While not a test I'd recommend applying, it's nice anyway to see the task met well.
But some rare practitioners make cultural and aesthetic currency look easy, and Olivier Assayas, at 67, seems always attuned to the modern.Thanks to the nonprofit Cinema Lamont (and the work, I should disclose, of my friends Josh Gardner and Shawn Glinis), the Paris-born filmmaker is getting a small retrospective this month, with a trio of his films playing successive Tuesdays at Oloman Cafe dubbed "3XASSAYAS." Best-known for works which deal with the technological mediation and global movements toward convergence present in our 21st-century day-to-day, Assayas manages to deal in these themes with a kind of casual intensity, easily capturing the sensory experiences and textures which larger forces would seek to contain, commodify, or circumscribe.
Slyly high-minded though his works may be, Assayas makes them easily watchable nonetheless. Often working through the prism of genre, with patterns cribbed from spy fiction, travel narratives, ghost stories, and class satire, his works glean from them all a sense of tantalizing invitation and a whirlwind cosmopolitan air. No exception in this is the series opener Personal Shopper (screening this Tuesday, Jan. 17) which pins an intimately-scaled ghost story to the backdrop of glamorously workaday routines — with Kristen Stewart playing the title figure in a breakout arthouse role. As essentially a gofer for Kyra, a professional philanthropist, apparent heiress, and tyrannical boss, Stewart's Maureen Cartwright spends her working hours cabbing and scooting between high-end shops retrieving boots, dresses, and extravagant jewelry for her vapid employer: aspirational signifiers she's forbidden from trying on. In her scant time off work, she confers with both friends and professionals on the possibility of communion with her twin brother's ghost, who she suspects of haunting the stately project house he left behind. Haunted not only by his death but by the threat of a cardiac condition they both share, Assayas makes clear that some part of Maureen was lost with him, leaving her struggling to maintain purchase in the present.
The premise gives Assayas space to explore many of his predilections: the tactile immediacy of sensual experience (touching or wearing fine dresses carries as much charge here as anything more conventionally erotic) and the ways it's enhanced or distorted by pressures of desire, class, performance, and power. These dynamics play out, too, across borders (between England and France) and points of transit, with airports, hotels, and train depots providing regular stages for Assayas's studies of class-rooted and social tension's peculiar forms of charge. For all her experience, Stewart remains here a quite palpably, credibly anxious performer, allowing her to capture beautifully the effortful struggles of being present amid the swirl of modern work and life.
Much connects 2016's Shopper to 2002's Demonlover (screening Jan. 24), a more angular, dissonant international thriller orbiting around an attempted deal to acquire a stake in a company that deals extensively in the booming space of online hentai. (For those unfamiliar, that's Japanese animated porn.) Starring Connie Nielsen as Diane de Monx, a backstabbing, cutthroat exec eager to push through a deal for the multi-pronged site, Assayas tracks her entanglement within a dark-web mire that upstages the film's boardrooms' atmosphere of finely polished sleaze.
Such surfaces — especially as contrasted with hentai's aggressive, nested frames of fantasy and artistic mediation as depicted here — become as much a subject of fascination for Assayas as the power plays in which they're wrapped up. In Demonlover, the performance and maintenance of any high ground proves bound up in the projection and consumption of a certain kind of image, intermingling sensations of envy, aspiration, and self-regard. Buttressed through careful attention to manner, dress, cunning, and class, the film's examinations are aided by a largely female cast (Nielsen's joined by Chloë Sevigny and Gina Gershon) of cunning, potent scrabblers: each of whom moves through the world acutely conscious of these pressures. From Assayas's playful renderings of gaming or porn to a shot of a hand-cradled, broken high-end shoe, the film's world never ceases to be vivid and rich with images — and it's scored with vigor to match by Sonic Youth.
Related (albeit less violent) modes of interpersonal jockeying move the levers of power within the series' last film: 1996's satirocomic take on film set dynamics, Irma Vep. Centered around the production of a remake of Louis Fueillade's silent adventure serial Les Vampires, Vep sees director René Vidal (New Wave icon Jean-Pierre Léaud) casting the Hong Kong-born star Maggie Cheung (playing herself) in the film's alluring, enigmatic title role. (If the premise sounds familiar, it's because Assayas just recently remade it, as an essential — if somewhat lighter — eight-episode minseries for HBO, which readily acknowledges and even incorporates bits of this '96 work). Entering a production office at the film's start, Cheung immediately finds herself quite game but nonetheless out of water, struggling to secure a place in a temporary workplace prone to nationalistic, reactionary conceptions of film history, industry, and form.
This sense of instability, wrapped up in vague ideas of the Irma Vep character which seem to infringe upon her sense of her own self, follows Cheung throughout the role. Reflecting the sorts of prejudices faced by actresses broadly and certainly along intersectional terms, Cheung finds herself caught up in a tangle of projected desires and preconceptions held by those she meets, creating a set of hurdles that prove nearly impossible to clear. But this essential disjunction is not just directed her way; the whole set's riven by backbiting, confusion, and skepticism not only regarding Cheung's presence but towards, too, Vidal's current and recent work. Such a dynamic leaves her unsupported, largely on her own in forging a connection to the character on a set that's coming apart — seeking an experience of immediate, personal connection amid fraught circumstances. At turns sardonic and sympathetic, expressing wary hopes for the medium's future as a form, Vep works as a kind of rosetta stone outlining Assayas' artistic considerations – and his grasp on the myriad pressures of navigating our own time.
The full schedule for 3XASSAYAS is available at cinemalamont.com/assayas.
Coming soon: Metro Times Daily newsletter. We'll send you a handful of interesting Detroit stories every morning. Subscribe now to not miss a thing.

Follow us: Google News | NewsBreak | Reddit | Instagram | Facebook | Twitter