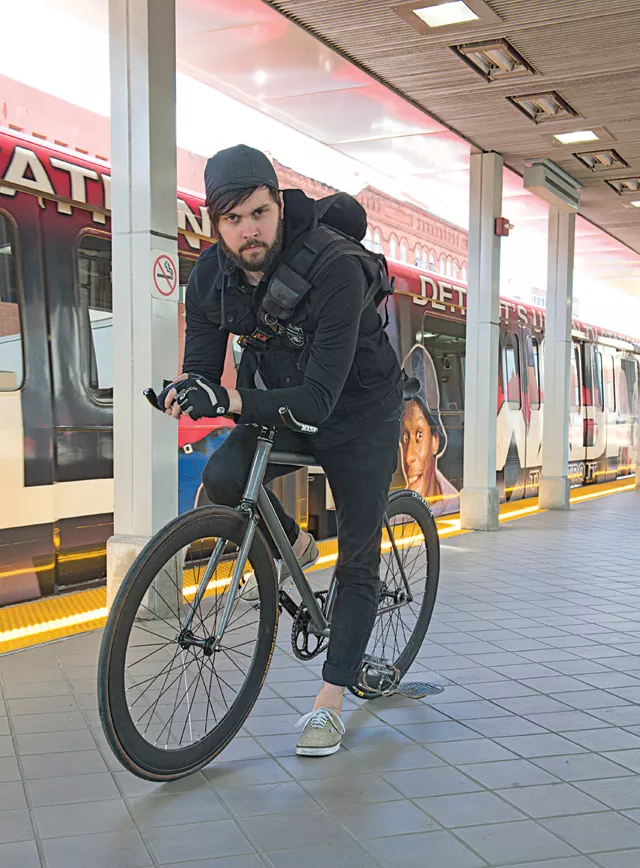 Jimmy Schroeder has been seeking adventures since graduating high school five years ago. That's why when the chance came to move into a friend's apartment in the New Center area of Detroit, the 23-year-old Battle Creek native didn't think twice. He gathered his belongings, rented a moving truck, and headed eastbound on I-94.
He's been living in the city since March. And, like a growing number of young people, Schroeder is pursuing his urban adventure without an automobile.
Part of the reason is economics: His car broke down, and purchasing a new vehicle and then covering the associated costs — keeping it filled with gas, paying for insurance and oil changes, etc. — were expenses he figured he'd be better off avoiding.
There's more to it than just that, though. Not having a car, he says, "makes you appreciate more of the little things. It's a good way to get around."
Living in the city is key to making things work.
"I have pretty much everything I need close by," he says, "That's the big thing missing from suburbs. In suburban areas you're just kinda there."
Although he says it took him three months to visit his parents, Schroeder now frequently makes the trip via Amtrak, whose Detroit station is conveniently located two blocks from his apartment. A one-way ticket runs him $24.
To make the trip to Battle Creek from Detroit in his old 1998 Mercury Sable would've cost about as much.
Schroeder is far from alone when it comes to scaling back automobile use.
A recent study by the Frontier Group, an environmental think tank, and the U.S. PIRG Education Fund found that, in 2009, people between the ages of 16 and 34 had cut the number of miles driven by 23 percent when compared to 2001. Decreases for Gen X and Baby Boomers were more modest.
More notably, they are waiting longer to get their driver's licenses ... if at all.
New data from the Federal Highway Administration and the U.S. Census — including a study conducted by Michael Sivak and Brandon Scolette of the University of Michigan — showed that 87 percent of 19-year-olds in 1983 had a driver's license; by 2010 that number had fallen to about 70 percent. For 18-year-olds, it dropped from 80 percent to 60 percent, for 17-year-olds from 69 percent to 45 percent. For drivers in their 20s, it dropped about 10 percent.
The findings, as Sivak described them in an e-mail, should be of interest to governmental regulators and automakers because the trend has "widespread consequences."
"Government regulators have interest in these trends because driver age has a strong effect on crash rates with the youngest drivers having the highest crash rates per mile driven," Sivak says.
Sivak and Scolette's study found four probable reasons young people are more likely now to put getting a driver's license on the backburner:
• The Internet and virtual contact have reduced the need for actual contact.
• Tough economic times.
• Young people are migrating to cities with reliable public transportation.
• Environmental concerns.
The effect of the Internet on driving is significant, Sivak says. The study he and Scolette conducted found a definite correlation between use of the Web and a desire to drive in various countries; where Internet use is up (in terms of the number of people accessing it), licensure rates are down.
The Internet, Sivak explains, has two effects: "The Internet has the potential to find things more efficiently, without having to drive around. Furthermore, some young people feel that driving interferes with texting."
That's not just speculation. A study recently conducted by Zipcar, a car-sharing rental service, and KRC Research, a market research firm, found that 54 percent of younger people polled preferred to spend time on the Internet talking to friends rather than driving to meet up with them.
One might also argue that the rising costs of maintaining a car, coupled with college tuition costs that are continuing to rise, has created a shift among millennials, who might not be in a hurry to settle down. The ceremonial age of 16 is, in a sense, being demoted to simply another year gone by.
A Department of Transportation study showed the number of 16-year-olds in the United States who obtained a driver's license dropped from 50 percent to 30 percent between 1978 and 2008.
"There are some economic-cycle factors involved as well, such as the current unemployment rate and cost of ownership of a car versus disposable income today," observes Mark Wakefield, director of AlixPartners LLP, a consulting firm based in Southfield. "And, on the longer-term trend side, continued urbanization is having an impact, making it less fun to drive and driving less of an 'event' for city-dwelling Gen N's." (That's Gen N meaning "neutral about driving.")
An annual study conducted by AlixPartners, which analyzes multiple automakers and auto suppliers, offered gloomy figures for automakers, showing there are 5 million fewer potential car buyers than there were just five years ago.
"Younger people have so many alternatives today with the Web," says Tim Yost, also of AlixPartners. "Cars don't seem as interesting" to them.
Ferndale resident Alexander Wojcik, 24, got rid of his vehicle three years ago. He says he has no intentions of getting back behind the wheel. Instead, he gets to work and school by bicycle.
"I don't see the point in owning a car," Wojcik says. "I survive without it. Both of my jobs are within a mile from my house, and school is close as well, so anything I need is within reach."
The KRC Research and Zipcar survey also found that 45 percent of younger people have made a conscious effort to reduce driving.
"The last time I bought gas it didn't cost as much as it does now," Wojcik says. "Why would I go back to that?"
The way he sees it, when a young person is deciding how best to spend limited resources, cars come up short.
"You can have an amazingly functional, stylish, well-built bicycle for a thousand dollars," Wojcik says. "You spend a thousand dollars on a car, it's going to go to shit in a year."
Wojcik adds that the environmental consequences of owning an auto are also a concern.
"I think, globally, bicycles are better and more popular than ever because their [environmental] impact is zero," Wojcik says. "You're not causing any harm. When you drive a car it impacts a million things. That aspect of it, as we're becoming a more educated society, is becoming more prevalent — the idea that it's a good thing to the environment, the world, even to small communities."
By its very nature, a decrease in driving creates higher demand for reliable, efficient public transportation — the dearth of which has long been an issue in metro Detroit.
Andy Didorosi, 25, is trying to help change that. His recent start-up, the Detroit Bus Company, is providing a new way to get around town. The $5 per-ride service covers nearby suburbs and downtown Detroit neighborhoods. An iPhone app allows customers to track the buses they're waiting for.
Didorosi says he created the company because he felt the city needs more reliable transportation in order to grow. The ridership of his fleet of eclectically painted buses generally is a mix of young and old, with the average age hovering around 35 to 40.
"These are people who saw the city crumble and are still venturing downtown, still fighting for it and spending their dollars down there," Didorosi says via e-mail. "It's very motivating."
The selling point to Detroit's resurging neighborhoods (such as downtown, Corktown and Midtown) for the younger crowd is their transformation in recent years into smart growth communities — neighborhoods with apartments, stores, restaurants, entertainment, schools and access to public transportation nearby.
A National Association of Realtors survey from March 2011 found 62 percent of 18- to 29-year-olds would prefer to live in smart growth communities.
Given that, Didorosi sees the potential for young people providing a boost to public transit in Detroit, if the money for vast improvements is made available.
The ways he sees it, young people are gravitating to places with the best public transit, be it San Francisco or Copenhagen. Detroit, he says, would be wise to follow that lead if it wants to become a magnet for youth.
Better public transit, he contends, will "create its own demands and bring commerce to the corridors [in which] it operates."
The finding of Sivak and Scholette's study, which correlated lower licensure rate with higher Internet usage, seems absolutely reasonable to Didorosi.
"The fact is, social activities across the board are in decline, and public transit and cycling are among the very few places where you can meet new people and branch out. Transit is a crucial crossroads where you can have the conversations and build the relationships that really matter," he says. "We've been imprisoned in our cars-of-one for far too long here in Detroit. It's time to reconnect."
In response, more cities have begun to adapt to the increased interest in cycling, although sometimes grudgingly. Schroeder says he's seen that with the residents of his hometown Battle Creek. There, he says that "people are hesitant with change, even if it's putting a new line on the road" for bike lanes.
While older folks might be resistant to such change, many younger people are becoming a non-driving force behind it.
"As a younger person, I moved to the city because I can't stand the suburbs," says Jason Fiedler, communications and programming director at the Hub of Detroit/Back Alley Bikes. "Strip malls and McMansions don't ignite anything within me."
On the other hand, Fiedler — who grew up in the suburbs — is fired up by what he sees as Detroit's various attractions: "Concert of Colors, the Trumbullplex, the Magic Stick, the Detroit Film Theatre, the DIA and many other entertainment and art venues don't exist out in the suburbs."
These benefits, he says, far outweigh any potential drawbacks.
"Despite concerns about safety that won't go away, I would always rather bike in Detroit than the suburbs. [Motorists] are much more hostile in the suburbs than the city."
He's also put off by the idea of having hours of his time devoured by commuting to and from work.
"I always wanted to work somewhere close to where I lived," Fiedler says. "If I wanted a job farther away, I would consider moving closer. Having a partner that possibly works in a different area than you and having to choose where your children go to school and transportation to and from school complicates things, but younger folks usually don't have those complications. So live, work, eat and entertain where you live because ... it's easiest that way. Why not?"
Fielder's views reflect a broader trend. Recent U.S. census data shows growth for a number of major cities with young people contributing to the growth. New Orleans saw a 4.9 percent increase, Austin, Texas, a 3.8 percent increase, and Denver a 3.3 percent increase.
And while Detroit's overall population continues its decades-long decline, there is clearly an increase in young people in a number of key neighborhoods. "I definitely believe it's happening, though the extent of it is hard to estimate," says Data Driven Detroit's Kurt Metzger, the acknowledged dean of Detroit demographers.
In response to new Detroit arrivals, new businesses are springing up. Among them are car-sharing services such as Zipcar or the newly founded RelayRides, which helps car owners rent out their vehicles for an hourly or daily fee.
"There are a lot of benefits to car-sharing in terms of the environment and the economy," says RelayRides founder Shelby Clark. "We feel that we're really democratizing the benefits of car-sharing, and for the first time making it so that no matter where you live, you can have car-sharing in your neighborhood in under five minutes."
RelayRides currently has vehicles available in 47 states, including Michigan, where cars are available for rates as low as $7 an hour.
Clark believes young adults leaving the suburbs and relocating to major cities will be attracted to the company.
"There's been a broad shift among the millenials, Clark says. "The core premise is that access trumps ownership."
"Society is becoming increasingly urban," he adds. "In a lot of those areas, you don't have to have a car every day. Car sharing is an easier, more affordable way to access mobility."
To address the concerns of those who might be hesitant to rent out their vehicles, car owners are covered for as much as $1 million under RelayRide's insurance liability policy. Potential car renters must go through a screening process that includes a driving background check. Renters are also covered by a $300,000 policy and provided 24-hour roadside assistance.
"People really value the peer-to-peer connection," Clark says. "Usually, whenever you meet up with the car renter, you look the person in the face. People really respect that. They treat the car much more as if they were borrowing it from a friend instead of if they rented it from a big company. They care about leaving the car in good condition."
RelayRides also uses social media — including Facebook and a peer-to-peer online rating system that allows both renters and owners to rate their experiences online.
Car owners "get to look at the renter's reputation," Clark says. "They will also get to see if they have any shared social connections on Facebook. Only if they feel comfortable, they'll rent the car out."
RelayRides has also recently partnered with General Motor's OnStar assistance program, which allows renters to lock and unlock a vehicle with their smartphone.
"Automakers are thinking about car-sharing as well," Clark says. "It's an opportunity to expose the product to consumers and for extended test drives, and also build relationships with consumers."
With younger people driving less, U.S. car companies have been trying to create new ways to keep them interested in purchasing vehicles.
"We're trying to understand how the younger base wants to be communicated with," says Jason Russ, head of Dodge Advertising. "It can be hard ... kids are drawn more to technology than they are cars."
Dodge's latest experiment is the 2013 Dodge Dart. A $15,995 starting sticker price, customizable body and interior, and many technological features — including an 8.4-inch touch screen, voice activation capabilities, USB ports and auxiliary jacks for smartphones or other devices — are all intended to attract younger buyers. Certain models get as much as 41 miles per gallon. Other add-ons include GPS and Sirius Travel Link — a touch-screen service starting at $1.99 a month that provides weather, movie, sports and gas price listings.
"Technology seems to be one of the things that the millennials seems to aspire to with the evolution of smartphones, tablets ... things like that," Russ says. "Anywhere we think we can reach the young influential set from the technology standpoint ... that's where we're looking to go."
Russ explained that the Chrysler brands interact with the younger community through social networking sites, concerts, sponsored events and sweepstakes. Currently, Dodge is co-sponsoring a contest that will send 12 participants and their guests to a music festival and a concert by rapper-actor Pitbull. In addition, one participant will win a Dart customized by Pitbull.
"We used that as a springboard to get the Dodge Dart into an area we'll know we'll have the audience that we're looking for," Russ says. "Pitbull is very popular right now and he's got a very strong audience; he does very well in terms of reaching out across demographics."
Chrysler has also been forming relationships with television networks such as MTV, VH1 and Comedy Central.
"Any way that we can try to find where they're living, breathing, the way they consume media ... that's what we're trying to continually understand ... because that evolves every day," Russ says.
The long-term impact this recent trend will have on automobile sales is uncertain. But there are definitely people who are interested in changing the way we all think about transportation.
"I look forward to buses, bicycling and walking as 'transportation,' not 'alternative transportation,'" Fiedler says. "Because the word 'alternative' assumes that there is a main, normal, correct or better way of doing something. For the longest time, the nuclear heteronormative family has been seen as the 'normal' or 'correct' way to be. Other families are seen as 'alternative' lifestyles. But the truth is that there is no 'correct' way to live. I think that is what we are seeing. Younger folks don't necessarily want to live in the suburbs and drive ridiculous amounts of time to access daily necessities. This is a pretty reasonable thing to want, but as long as it is called an 'alternative' people will continue to feel shamed for living in such a manner."
David Byrne, of Talking Heads fame, an avid cyclist throughout his career, tried to boost his favorite mode of transportation while opining for The New York Times in May. At 60 years old, he's several decades removed from the core demographic in this discussion.
The piece, entitled "This Is How We Ride," focused mainly on New York City's inaugural bike-share program. But Byrne also strikes a chord that easily resonates with a much younger crowd.
"I got hooked on biking because it's a pleasure, not because biking lowers my carbon footprint, improves my health or brings me into contact with different parts of the city and new adventures," he writes. "But it does all these things too — and sometimes makes us a little self-satisfied for it; still, the reward is emotional gratification, which trumps reason, as it often does."
For Schroeder, abandoning his car is part of a larger pursuit. Forget about being stuck in an office cubicle or behind the wheel. He's looking for a more interesting way to live.
And if that means encountering some inconvenience along the way — whether it's spending four hours on a train to get back to Battle Creek (which is how long it took on one recent trip) or finding a way to work when it's raining out, then so be it.
At this point in his life, not owning a car only adds to the adventure he seeks.
"If I don't have anything [figured out] by the time I'm 30, I know I probably dicked up," he says. "But you shouldn't measure your life in years and milestones. It frees you up to just be able to be happy."
If the younger generation continues to shift away from using the automobile and the trend develops into a sustained societal change, we could be witnessing the start of something profound.
"Cars are old hat," Didorosi says. "It's like a big, metal child that eats and eats expensive fuels and is prone to hurting itself.
"It's obvious why young folks want public transit and bikes," he adds. "It's just better."